MANOJ KUMAR
Several colossal images of robustus yaksha like anatomical features with ithyphyllic (urdhvalinga) were crafted at Mathura , Ahichhatra, Rishikesh and Bhagalpur regions of northern India. On the basis of ancient sacred literatures, these are the best specimens matching the universal form of Lord Shiva. This very form of Lord Shiva is described as Yakshaswaroop particularly in Panchakshara Stotram. In this religious work the worshipper chant five auspicious letters  "Aum Namah Shivaya". Following is the chants with translation provided by Shri Ramachander, P. R.:
Yakshaswaroopayajadadharaya,Pinakahasthathayasanathanaya,Divyayadevaayadigambara,Tasmaiyakarayanamashiva-ya.
Translation:
My salutations to the letter "Ya" , which is Shiva,Who takes the form of Yaksha,Who has a tufted hair,Who is armed with spear,Who is forever filled with peace,Who is godly,Who is the great God,And who wears the directions themselves as dress.
So I have designed this brief exhibition by choosing some best early icons of Mathura School of Art whose brief details are given below. These are selected from various collections across the globe. The living traditions of worshipping Shiva as Yaksha in Uttrakhand is also described in following description:
JAKH (YAKSHA) MELA
Living Folk Traditions also testify the concept of this exhibition. There is a famous annual Jakha (corrupt local form of Yaksha) fair in the Kedara valley of Uttrakhand. It is associated with Yaksha form of Shiva in which the copper image of Jakha (Yaksha) is being worshipped following a procession from the village of Devashal to the pious place of Jakha during the Sankranti of the month of Vaisakha which falls on 14th April every year. The place is near Guptakashi in Uttrakhand.
People of 11 villages worshipped Jakha (Yaksha) as his supreme Lord  (Ishtadevata) in the form of Yakshaswaroopa Shiva. According to the Pauranik tradition this Jakha fair has been uninterruptly and continuously occurred and celebrated ever since 1111 ACE.
Gallery
 Icons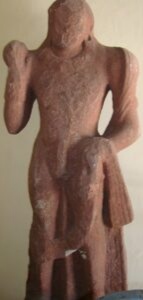 Yakshaswaroopa Shiva (Shiva as Celestial Being)
Rishikesh, Dehradun, Uttrakhand, India, Early Shunga Period (2nd Century BCE), Mottled Red Sandstone, H. 1.45mtrs, Bharat Mandir Museum, Siddiqi (1978), picron bautze (2016)
It is an image of Ithyphallic Yakshaswaroopa Shiva. As an example of early colossus icon it strengthens a recent conjecture that Brahmanic colossi, as well as Buddhist and folk colossi, were sculptured in early periods. The auspicious figure exhibits features belonging to a Pan-Indic iconographic program extending over many sects in these early periods commencing from Mauryan period and continues to successive periods of Shunga and Kushana also. Its attributes viz. the abhaya mudra, the kamandalu (water flask) in the left hand, the characteristic draping if dhoti and scarf all partake of this Pan-Indic vocabulary. Though this image of Shiva is poorly preserved but can easily be identified by the still clearly discernible Urdhvareta. It's solid stance is roughly comparable to early Yaksas, Nagas, and Vaisnava figures of Pre- Shunga periods. The protuberance on Shiva's head could either be the topknot of his locks or the turban, probably indicating his usnisin form.
In my opinion based on ancient scriptural descriptions incorporated in Upanishads it is undoubtedly a clinching evidence of Yakshaswaroopa Shiva.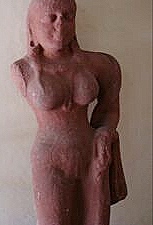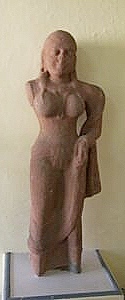 Yakshiswaroop Uma(Uma as Celestial Consort of Shiva)
Rishikesh, Dehradun, Uttrakhand, India, Early Shunga Period (2nd Century BCE), Mottled Red Sandstone, H. 1.25mtrs, Bharat Mandir Museum, Siddiqi(1978) , picron bautze (2016)
It is colossal image of female with smiling face which is characteristic of the late Mauryan technique of delineation of womanhood. It has partly closed eyes and smiling countenance. Her well-modelled body and the serene, pleasing, happy countenance are delightful, recalling masterpieces of Buddha figures of Mathura school of art. The torso with its full blown breasts, thin waist and well developed pelvic region has all the characteristics of an ideal Indian beauty. She is adorned with ekavali Hara on the neck falling between the breasts, the loose three – stranded girdle belt on the lower body reaching the pelvic region, and fine lower garment. The overlapping of the garment at the bottom, evidently the scarf (odhani), one end if which is thrown over her forearm, is a style shared also by his lord Yakshaswaroop Shiva. The other end of the garment passes over the left shoulder. Iconographically also this figure is of great religious importance as the Celestial companion of Yakshaswaroop Shiva.
­
Yakshaswaroop Shiva and Yakshiswaroop Uma (Shiva and Uma as Celestial Companions) 
Northern Region of Mathura, Uttara Pradesh, North India,Late Shunga Period (ca 1st century BCE), Mottled Red Sandstone, H. 160 cms. and 107 cms. Karim Isabelle Grusenmeyer – Bilquin collection, Brussels acc. no. nil, Bautze-picron (2016)
Here also Yakshiswaroop Shiva is ithyphallic. The linga is carved at a rather low position, which lets the lower part of the belly free. The figure may be compared with Yaksha from Parkham on accounts of its imposing lower part of the belly below the navel. The loincloth was knotted on the left hip, with the long and heavy extremities falling along the leg which are now broken away. The cloth of the skirt forms very narrow circular folds on the right thigh. The jewels adorning the deity, i. e. the flat V-shaped necklace, the numerous rings forming a broad bracelet and the heavy pendants of the belt, which fall on the right leg. The god holds his right hand at the lavel of shoulder whereas the left one was probably lying above the knot of loincloth carved on his left hip which is a Yaksha feature hence he is called Yakshaswaroop.
The female figure of Yakshiwaroop Uma is more damaged being broken at the level of the waist. Two long braids fall on the waist in the back, the flat belt lies above the hips and the long skirt has concentric pleats which are carved below the buttocks. Her left hand lying above the hip is also a classical gesture displayed in this early period. The thin belt is simply knotted and lies above the very broad and flat one which covers the hip. Her loincloth falling across the thighs is knotted on the left hip.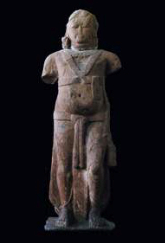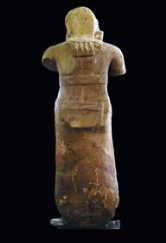 Yaksha
Parkham, Mathura, Uttara Pradesh,India, Late Shunga Period ( Ca 1st century BCE), Mottled Red Sandstone, H. 1.65 mtrs., Government Museum, Mathura acc. Picron bautze (2016)
To understand the Iconography of Yaksha I have selected here a huge image of Yaksha from Parkham, housed in Mathura Museum.It is an outstanding image of colossal Yaksha, a folk guardian God. The features are almost akin to just described four images.I have put it here for the concept of Yaksha.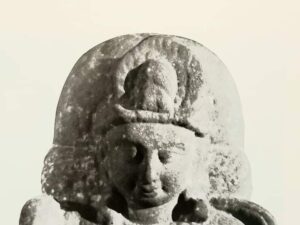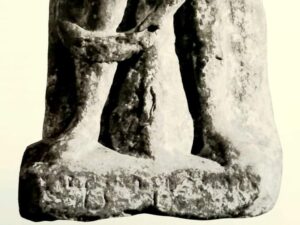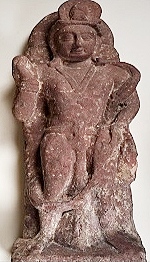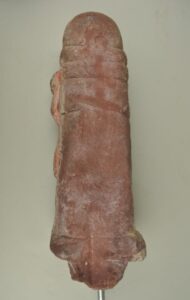 Linga with ithyphyllic Shiva  
Mathura, Uttara Pradesh, India, Kushana Period (Ca 1st century CE), Mottled Red Sandstone, H. 40.6 cms, University Museum, University of Pennsylvania, Philadelphia, Stella kramrisch, exhibition on Shiva cat .no 13.
To trace the origin of depiction of anthropomorphic form of Urdhvaretas Shiva from Shivalinga , an elegant Kushana bifacial ling from Mathura which found place in Pennsylvania museum, USA have also been selected.
It is in fact a linga having the juxtaposition of the icon of Shiva. The iconography is similar that is depiction of urdhvalinga feature.
Hence with the help if this very image we can easily postulate that this is Yakshiswaroop Form of Lord Shiva.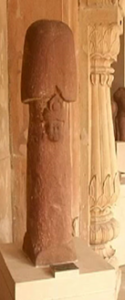 Shivling with depiction of Yaksha 
Gamri village, Bharatpur, Rajasthan, India,Kushana Period (First century ACE), 4.5 feet in height, IAR 1972-73 p. 77.
To prove the depiction of Yaksha namely Tundila , here a huge Shivalinga (bifacial) from Gamadi, Bharatapur, Rajasthan of Kushana Period has also been incorporated in this digital exhibition. Here two large –bellied (Vrihadodara) Yakshas were carved. Here Sthanak ushnishi Shiva and Tundila Yaksha have been depicted. It's height is about 4.5 feet approximately.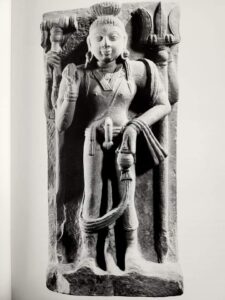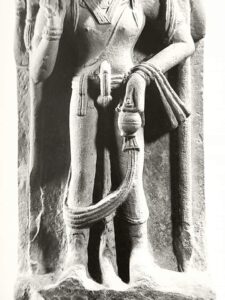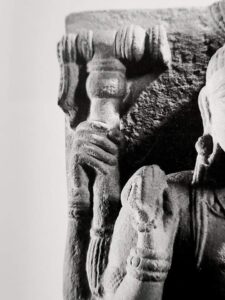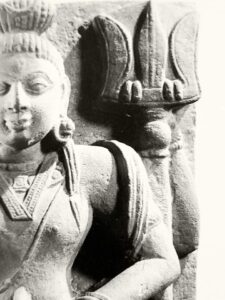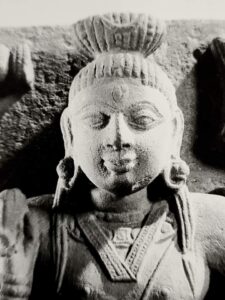 The God Shiva (Urdhva-Linga)  Mathura or Ahichchhatra, Uttar Pradesh, India, 3rd century ACE, Buff Sandstone, 27 inch (68.6 cm), Los Angeles Museum purchase with Acquisition fund, Acc. No. :M69. 15.I, Pratapaditya Pal (1986)
This is an elegant image of  Ithyphyllic Shiva (Urdhvalinga) reported by Dr. Pratapaditya Pal, who wrote an apt and appropriate note. The spiritual significance of Urdhva-Linga Shiva is summarised as it depicts a state of extreme mediative blissful state when the retas, flows upwards within (hence urdhwa-retas). Depicted as an erect linga pointing upwards, also means achieving supreme bliss within, the self causing सेवा-anand. This image is to show the iconographic tradition of depicting urdhvalinga Shiva.Here Standing Shiva has been shown wearing dhoti and folded shawl. His feet has been placed evenly on either side of pleats of his garment. Around his waist tied a sash, its end overchanging his right thigh. He wears various ornaments and his hair is tied in an ascetic chignon adorned with string of pearls and crescent. Across his torso is a sacred cord. The third eye on his forehead and erect penis are prominently executed. The principal right hand shows a gesture of reassurance and holds the rosary, the corresponding left hand carries the water pot. The upper left hand grasped the trident while the other right hand holds the mallet like object. This attribute may not be firmly identified and may represent an unusual form of an ascetic staff( the danda). However mallet has been shown as an attribute of Kailash Shiva according to Skanda Purana.
Linga with ithyphyllic Shiva

Mathura, Northern India, 2nd Century ACE, Stone, whereabouts unknown
This is a Kushana era ithyphallic sculpture of Lord Shiva from Mathura, dated to 2nd century CE. Here Lord is depicted in his anthropomorphic form along with multiple heads and Linga behind.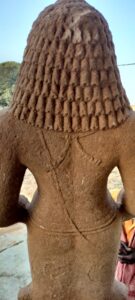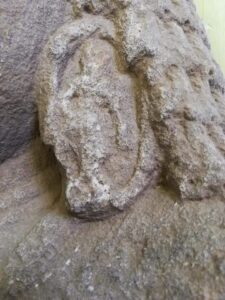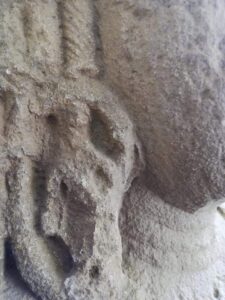 Standing Ithyphyllic Shiva
                                                        Shahkund, Bhagalpur, Bihar, India, 4th Century ACE, Stone, Bhagalpur Museum, Bhagalpur
A huge stone image of standing ithyphyllic Shiva was discovered accidently near Shahkund, Bhagalpur, Bihar which was later on displayed in Bhagalpur Museum. The life sized two armed image of colossal form of ithyphyllic Shiva have been carved on a high pedestal. This is the figure carved in round with a bit flatness in lower portion. He is holding an oval object(broken) resembling to either matulanga fruit or shivalingam in his right hand while his left arm is broken . His regalia is quite princely except no crown. He wears a lower garment similar to vyaghra cloth whose lower folds were executed beautifully as flaring boarders. The vertical fold of the garment which is hanging between the legs may be precisely compared with that of the Didarganj Yakshi. He has oval face and adorned with necklace and ear ornaments. The string of the necklace at back is like that of the images of Yaksha from Both Pawaya and Patna. His hair has been adorned with both horizontally and vertically arranged ringlets of various layers, which can be easily seen from the back side of the image, where incised sacred thread (yagyopavita) could also be glimpsed. Each of his ear ornaments are having carving of tiny deities in their respective ears. However what makes this image unique hence matter of study is it's frontality which surely makes this a deity Or a warrior. The utility of such high pedestal is clearly pointing towards a custom that worshippers usually came close to the feet and surrender before their adorable Lord. There are so many Maurya – Sunga characters in this image which shows continuation in carving traditions.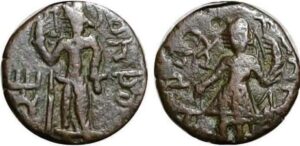 India
New Delhi
Shiva with Urdhvalinga depicted Kushana Coin
Kushan Empire, Kingq Kanishka, 128-150 AD, Bronze Drachm, 1/4th unit, 3.97g, Ref: Gobl 813; Mitch 3168T
To testify tradition of urdhwa-retas Shiva Iconography, a Kushana coin from Shri Mitresh Singh's collection featuring Shiva with Urdhva-Linga has also been incorporated in this exhibition.
Obv: Two armed ithyphallic Oesho (Shiva) standing facing, head turned to left, nimbate, holding trident in right hand and kamandla (sacred water pot) in left hand; with 'urdhva-linga' (prominent erection); Kushan tamgha in front; Bactrian legend "OhPo" (Oesho) behind.
Rev: Crowned & diademed King Kanishka standing facing, holding spear in left hand and sacrificing with right hand at altar.
References: The sequence wise bibliographic citations are given below
Siddiqi, W.H. 1978. Two Newly discovered Pre-Kusana Sculptures from Rishikesha (Uttar Pradesh), The Journal of the Indian Society of Oriental Art special issue (Dr. Moti Chandra Commemoration Volume, pp. 76-80 & plate XXV.
Claudine,Bautze-Picron.2016. Shiva and Uma in Karim & Isabelle Grusenmeyer- Bilquin Damien Woliner p. 5-7 with image plates.
Kramrisch Stella.1981.Manifestation of Shiva( Cat. no. 10). Philadelphia Museum of Art
Coomarswamy,Ananda K.(1927;reprint, New York , 1965). History of Indian and Indonesian Art, pl. xxi, fig.,80.
Deshpande, M.N.(Editor).1975. Indian Archaeology 1971-72 A Reviw, p.77.
Pal, pratapaditya. 1986 .Indian Sculptures Volume 1
Acknowledgement
I sincerely acknowledge the authorities of museums, institutions and auctions Houses whose photos have been included in this educational digital exhibition. I must owe my Special thanks with gratitude to Drs. Madhuvanti Ghosh Ji, Adolf Associate Curator, Art Institute, Chicago (USA), Purnima Mehta ji , Vandana Sinha ji , Stuti Gandhi ji, authorities of Embessy of USA for not only providing this important opportunity but constantly encouraging with their words of wisdom.