Waman Anandrao Wankhede
Stone of Spirituality, 
Visitor engagment programm on Early Stone Sculpture of Allahabad Museum 
Introduction :
Allahabad Museum is one of the four national museums of India. It was established in 1931 and started out in a small room of the Municipal Corporation of Allahabad. Pt. Brijmohan Vyas was the founder of the museum; he had a deep interest in collecting beads, coins, ancient sculptures and terracotta's. It was because of Vyas that Pandit Jawahar Lal Nehru laid the foundation stone of the museum in 1947 and also went on to donate his own collection to the museum. Allahabad Museum began a new chapter in its history when it gained the status of a national museum in 1985. Today, an impressive total of 72000 antiquities are housed at the Allahabad Museum, 1500 of which are sculptures. The museum now has 16 galleries which attracts  thousands of visitors every year. In the Early Stone Sculpture gallery, there are antiquities from a time period as vast as the reign of the Mauryas to the end of the reign of the Guptas (3rd BCE to 5th CE). On the railing of the Bharhut stupa, the life and times of Buddha and stories from the Jatakas are etched out for eternity to remember. We also see worship of Buddha in his symbolic forms such as the lotus, triratna, his footprints, purnaghat. Bharhut stupa was the forerunner of the modern "open-air museum" concepts in which the Brahmi script from the 2nd century BCE is inscribed. Here we shall try to explain to the museum audience, exactly how these stupas were made.

The Allahabad Museum General view
The Gandhara School of Art is primarily Indian but draws heavily from Greco-Persians styles of art. The Greeks had not only embraced the Buddha but also modified him after themselves, truly showing that "Man made God." In Bamiyan, which is in Afganistan, they built  grandiose and imposing Buddha statues. This is an example of Kushana art. Foreign invaders have always embraced and accepted India's culture which is apparent in the status of blue cyst statue which is from the 2nd-3rd century CE.
We find that Kaushambi was the capital of the Vatsa Janapada. Mention of a certain Proti Kasusuru Bindi as a citizen of Kaushambi is found in the Satpath Brahmana. Other sources where one finds mention of Kaushambi as an ancient metropolis are the Aitareya Brahmanas, the Gopitha Brahmanas and the Kausitaki Upanishad and these are just the Sanskrit sources. The Puranas, Tripitakas and other Pali texts also do not fail to mention the ancient city. The Chinese explorer Fa Hien famously visited the city and his presence in the city is mentioned in the inscription on the Ashoka pillar at Allahabad and the Kada inscription of the Pratihara king Yasapala and the pillar of Kaushambi itself. These pillars and records testify to the existence of the city from at least after the later Vedic period upto the Mughal period.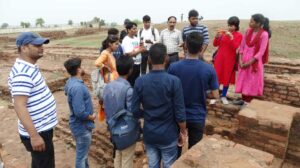 Visiting the excavated archaeological site of Kausambi, Prayagraj, U.P. India.
The site was excavated by the Allahabad University from 1949 till 1956, under the guidance of Professor GR Sharma. In these excavations, a great deal was revealed about the nature of the site. Among the finds were the Ghoshitaramm Vihara, the eastern ramp and the Udayana palace. The Archeological Survey of India, before this had already conducted excavations which led to the discovery of the Ashokan pillar in 1937-38. Some of the surface collection found at the site are on display at the Allahabad Museum.
The Gupta period is often known as the Golden Age of India. In Gupta art, literature, society and culture we see overflowing wealth and grandeur. In sculptural art the artist beautifully captures the spiritual and religious expression which is quite in contrast to the rectify of Gandhara art. The accentuated roundedness of faces, drooping eyes, curly- rather frizzly- hair and the intricacy of embellishments on the human body all serve to enamour the observer. It is in this period that Gupta temples were built. The sites at Nachana, Kuthara, Sanchi, Bhitargaon, Deogarh etc  show the developments of Gupta temples. Early temples were flat roofed and then gradually transitioned to temples with conical tops. In Shiv temples the inner sanctum has been discovered in excavations. An Ekmukhi shivlinga found in Khoh, Madhya Pradesh, from this period is on display at the museum.
We wish to show the readers how our houses of worship first started out and how they stand in their grand forms now, how first Rudra was venerated in his rudra form and how he is now most widely worshiped in the form of mukhalinga.The luminescence, tranquility and half closed eyes , the blissful smile on his lips, his coiled hair and the half moon set on them, the third eye holding the world together embedded into his forehead, are all indications that about a millenia and half ago, the signs of Shiva were established.
Children programmes
(1) 8-14 years old:
For younger students, we will provide informal education to the children via preparation of replicas and pottery  of the objects displayed in the Early Sculpture gallery through clay modelling which will be taught as regular monthly programmes.
School student come with their teacher and draw any objects of the Allahabad Museum. Allahabad Museum will provide the drawing seat.  Also use these painting in Allahabad Museum of Exhibition hall in every month the facility free of cost.
Poster making and painting competition with a focus on early sculptural Art schools of Gandhar, Bharhut, Kausambi and Khoh.
Their work will be showcased on International Museum Day and World Heritage Week. They will be offered opportunities to participate in story telling competitions and fun crash courses on the Brahmi script.
Children Activity
Allahabad Museum is the caretaker of history as much as it offers connections to history that can easily be overlooked in traditional classrooms. Whenever you bring your child to a museum or art gallery it makes a huge impact on their mind and innovation capacity. As parents we don't have to be experts on subject matters. However reading the plaques on the exhibits and motivating your child to ask questions will encourage a love of history. Allahabad Museums provides opportunities for students to experiment with ideas and to develop creative and innovate thinking to engage with unique cultural resources and to gain skill and employment experience.
Replica making for children:
Material to be provided by the Museum.
Fee: Rs 100.
Monthly – Every Tuesday, in a first week.
Number of Participation 20 Children.
Pottery making workshop:
clay to be provided by the Museum.
Fee:  Rs 100.
Monthly – Every Tuesday, in a first week.
Number of Participation 20 Children

Guided Tour for a group of Children
Student programmes:
(2)15-18 years old:
In this programme, we would like to introduce and help the students to explore the rich and fascinating history of Kaushambi. To that end, the schools that agree to participate shall be invited to the museum for an introductory workshop and introduced to the basics of Kaushambi and its importance in history. The group of students the school sends to the Museum shall be small, to ensure intensive, extensive and attention to individual learning. The programme shall be a year long, so the to-do lists and the important checkpoint will be the same for each batch that comes along every month.
This programme will focus with razor sharp precision on high school rising students of grade 11th and 12th. These are the years when students truly realize what stream they want to go towards and this programme that only serve to help them in that arena. Rising 11th graders will benefit from this as they can make up their minds on career choices, if in fact the area they are interested in is Humanities and the Arts. Rising & 12th graders will learn much from the intensive curriculum they will be put into.
An intern and a curator from the museum shall show our exhibitions to the students and galleries with important sculptures from Gandhara, Bharhut and Kaushambi. Our sculptures and antiquities will also normalize the existence of  identities in young minds. Social media is an important part of young people's lives and therefore posting on social media shall not only be encouraged.
This will generate  interest in the programme while serving as free publicity and engagement for the Museum. The students shall be divided into discussion groups which will give them a sense of the team spirit and also deepen their interest. They will be taken on a tour to Kaushambi which is only one hour away from Prayagraj.
At Kausambi will be shown around the ruins but to give an insider approach they will be shown around the numerous functioning Viharas of various nationalities and inspired to imagine Kausambi in its prime.
Student Activity
Another important outcome of the museum medium is that it develops student's ability to make interdisciplinary connections between concepts and ideas beyond the confines of curriculum subjects. This helps to build lateral thinking and problem solving skills. The Allahabad Museum will offer historical lessons not taught in schools.
Programme : Outreach
Visit to Kaushambi by bus for 15-18 years old, students. Curators of the Allahabad Museum will guide at the archaeological site of Kaushambi which is 60 Km away from Prayagraj.
One teacher will be allowed with their students.
 Participation : 30 students.
Fee:  Rs 100. Museum will share rest of expenditure.
Monthly First Sunday of Month, Full day program

Guide Tour for Student
Family:
The largest rising demographic which needs to be paid attention to is that of working parents who have their own needs and desires. Working parents can easily come to the museum and have a fun experience without having to worry too much about their child.
Strollers- like wheelchairs are- being provided to them so they can tour with ease.
It is necessary to name the demographic because it is one that has, along with its needs and wants, problems of its own and we cannot solve a problem without first naming it. Parents need inclusive spaces and inclusivity stems from comfort which the Museum is keen to provide its visitors.
We currently are building a creche for young parents to leave their kids while they enjoy what the museum has to offer. The creche shall be well stocked with interactive games to keep the children engaged.
The museum shall provide a wholesome experience for the whole family. Again, amulets and pendants shall be marketed to them and they shall be encouraged to use social media to talk about their experience at the museum.
Family Activity
Allahabad Museum successfully engages family audiences or extended family groups which need to be guided in the exhibition. This makes for collective thinking and understanding as well as positive gain of knowledge by them.
Heritage Quiz
Allahabad Museum invites family unite for heritage quiz program.
Four family unites to participate in this activity.
Entry: Free.
Every Sunday.
Venue:
Allahabad Museum auditorium.
Allahabad Museum will offer 1st 2nd and 3rd prize.

Group Photo of Women Artist Group
Senior Citizens:
The museum is well facilitated to make our senior citizens feel comfortable and at home with appropriate facilities like wheelchairs, an affordable canteen, a beautiful lawn, a well stocked library and air conditioned galleries and rooms.
Lectures by eminent professors of the University, our own learned faculty and esteemed guest speakers will be available to the elderly.
They can choose to apply for senior citizens' membership cards which will make access to the museum free and a halved admission price to their immediate family. It is not sensible to take them around the museum or to Kaushambi since the environment may not be friendly to those who have trouble walking or are differently abled.
They shall instead be given access to documentaries which capture the Early Stone Sculpture Gallery in videos and images in our auditorium. Our sculptures depict various ornamental styles of which they will be offered a comparative lecture by our curators. Accessories and hairstyles: Archaic or back in style? The museum will encourage them to buy amulets and pendants- replicas of those present in the galleries thus generating revenue from the programme. We also sell sculptures of deities which shall appeal to the older demographic.
Senior Citizen Activity
The Allahabad Museum to reach a greater senior audience and provide valuable programming support. Museums should research and survey senior communities to find out what kinds of exhibitions senior citizens are interested in. Senior citizens visit to museum will positively impact on their mental health.
Heritage Quiz:
Monthly, Last Wednesday.
Fee: Free
Develop partnership with senior citizen awareness of museum within senior communities.
Afforestion drive:
Monthly, Last Wednesday.
Fee: Free
Develop partnership with senior citizen awareness of museum within senior communities

Senior Citizen visiting Allahabad Museum.
Visitors :
Visitors can enjoy an interactive experience at our museum. We are working on audio-visual guides which will be available soon for people with special needs and wheelchairs are already available. Ramps are present to connect floors which can be used alternatively as stairs.
We have a canteen which caters fresh and affordable snack options and a library with interactive and interesting titles which can be accessed with permission.
Evening concerts of musical masters and local artists happen at the museum and intellectual personalities often appear for lectures.
Documentary viewings are also available daily at fixed hours and lectures every Friday in our auditorium. Free tour guides are provided by our museum for general tourists. Museum folders, also free of cost, are available at the reception.
The Early Sculpture gallery is constantly on view on screens in the Central Hall
Visitors Activity
The purpose of modern museum is to collect, preserve, interpret and display objects of cultural and scientific significance for the education of the public and community.
Allahabad Museum works to create a range of positive stimulating experiences for audiences through their visit and everything that comes along with that idea, including understanding pre and post visit experience ensures that visitors come back again.
Programme Selfi point in the Gallery
 Camera/ Mob. Fee: Rs 50.
Daily working day
Documentary shows, on Allahabad Museum and Kaushambi.
Venue: Auditorium, Allahabad Museum.
Fee:  Free
Every Friday 11.00 am to 12.00 pm, 1.00 pm to 2.00 pm, 3.00 pm to 4.00 pm

Auditorium Activities
Marketing of the Early Stone Sculpture Exhibition
Children and Students:
Maintaining a database of contacts of school heads and sending them invitations and notification about activities at the museum from time to tome.
Encouraging and embracing smartphone culture and social media posts which create buzz.
Holding seminars, competitions and workshops catering specifically to the younger demographic.
Building a strong social media team to establish presence on sites such as influx of over 500 million active users every day.
Creating internship positions for students which would help them gain service hours and the museum gets more work  done in an efficient way with younger voices. Internship positions are very alluring to rising 11th and 12th graders because they help with admissions.
Hosting open mic nights and exhibitions for student artists and inviting top-of-the-game artists for talks with the youth.
Opening up the library for all students
Families :
Creating book clubs for adults with interest in art, architecture or history.
Collaborating with organizations with similar audience to craft events like that arouse engagement and buzz. Operating popular restaurants in creative ways will help with engagement.
Hosting drives and community programmes like drives to water the plants drying around the city.
The museum already holds a heritage walk and several other such events but hiring an excellent PR team that make it the highlight of the season will loost interest and involvement. Leverage local influences and use local artists.
Senior Citizens:
Distribution of free folders and pamphlets among these groups.
Organizing Heritage Quiz and afforestation drives which can make use of them.
Allow and make room for senior volunteers just like student internships which can help them divert their valuable manpower and energy. Both parties the museum and the elderly-benefit from this.
For the section of this demographic that is in need of financial support, work towards the creation paid part-time jobs as guides or assistants.
Visitors:
Advertisement through billboards and newspaper endorsements .
Improving audio visual guides inside the museum to provide a great visitor experience.
Endorsing behind-the-scene torus of curatorial life.
Making the museum environment digital therefore more interactive and stimulating.
Furnishing the visitors with feedback forms.
The Early stone sculpture exhibition represents the best of Indian art. The marketing  and publicity campaign to promote the gallery is seen carried out through posters, short videos, public contact and distribution of folders areas such as mails, railway stations and airports. For more details visitors can visit Museums bilingual website www.allahabadmuseum.com also twitter and facebook. Allahabad Museum connects with its visitors through Museum friend's whatsApp group. Museum already have a list of school and contact number of teachers for calling the Allahabad Museum. For senior citizen can give us feedback on our museum register. Visitors can  fill up feedback form.
Acknowledgement
Embassy of the United States of America, New Delhi.
Ministry of Culture, Government of India.
Centre for Art and Archaeology, Gurugram, India.
American Institute of Indian Studies, New Delhi.
Allahabad Museum, Prayagraj, India.
Dr. Madhuvanti Ghose Alsdorf Associate Curator of Indian, Southeast Asian and Himalayan Art, The Art   Institute of Chicago, U.S.A.
Ms. Purnima Mehta, Dr. Vandana Sinha and the entire team of the American Institute of Indian Studies.
Thanks.