Dr. Baishali Ghosh

Curator, Academy of Fine Arts, Kolkata

---

Looking for something brilliant for you and your kids to do on weekends?

Why not complete these online challenges together to bring out the inner creativity!
---
The Academy of Fine Arts is a cultural organization that houses art galleries, an auditorium for performing art, a conference room, art classes, and an art museum with a priceless collection of exclusive objects of art, within one premise. Being located in the heart of the city, the museum and archives stand out as an extraordinary source of original records that delineate the history of the development of the first Art Gallery in Calcutta.
The Museum of the Academy of Fine Arts houses an outstanding collection of paintings and graphics by stalwart artists, miniature paintings, textiles,  carpets, metal works, manuscripts, folk art objects, and others. There is a good collection of paintings by the artist Jamini Roy. Few of his paintings with interesting and unique animal figures are selected for this program.
---
"Imagination is everything. It is the preview of life's coming attractions." — Albert Einstein, scientist
Whether you like animated animals or the real, this program will educate, entertain, and inspire you to get curious about the animals through the art of Jamini Roy. Gradually, you will dive into its artistry, which will help develop critical thinking skills, a passion for art and culture, and encourage creativity.….
---
Target audience:       
Families with children of all ages and abilities are welcome.
Recommended for children of ages 5–15 years.
Perfect for budding artists, with oodles of imagination and those who are yet to discover their creative powers.
---
Subjects to be covered 
About the artist Jamini Roy,
His style of art and the resemblance of his art form with the traditional pata painting,
How to easily draw the figures following his style of art,
Some mythological stories associated with the characters in his painting.
---
Participatory activities
Through this program, you will explore the world of animals through the genre of art of the famous artist, Jamini Roy. You will have fun involving in the participatory activities and in this process, you can learn about him, his style of art, and can develop a passion for art.
---
HOPE THE PARTICIPATORY ACTIVITIES HAVE GIVEN YOU ENJOYMENT AND INSPIRATION
---
Try your innovations and nourish your creativity
You can draw Jamini Roy's paintings on decorative pieces like flower vases, greeting cards, prepare small models, and others. Children can take the assistance of their parents. If you wish, you can send us your creations.
Selected artworks will be displayed in the Annual Art Exhibition at the Academy of Fine Arts.
Provoke your imagination power and write a story or poem on these wonderful paintings and send us by email. The selected pieces will be published in the brochure of the Annual Exhibition of the Academy of Fine Arts.
Contact us: Academy of Fine Arts; 2, Cathedral Road, Kolkata – 700071; website: www.academyoffinearts.in; email: info@academyoffinearts.in
---
Outreach Programs
Provision of service-learning opportunities to students in surrounding schools is not only core to the educational mission but is a useful tool for fostering trust between a community and an institution.

Free activities for the classroom teachers.
---
Public Relations and Marketing
Flex, banner, billboard signs, illuminated panels at different important locations. 

Direct news coverage
---
Your Valuable Comments and feedback
Please give few minutes to fill up the feedback form so that we can serve you better.
Feedback Form:
---
Click on the picture to enjoy the slide show with music
Audio credit: Bhatiyali Dhun; Album- Golden Milestones; Singer- Ustad Vilayat Khan; Label- Saregama; 01 Jun, 2003; HTTP://dns6.vippendu.com/m4a/34266/1055488/Bhatiyali-Dhun-Ustad-Vilayat-Khan-Ustad-Vilayat-Khan.m4a
---

---
Acknowledgments
I am grateful to the entire AIIS team, especially Dr. Vandana Sinha, Director & Ms. Stuti Gandhi, Associate Researcher, for their constant guidance and support throughout the workshop. I would also like to express my gratitude to the Chairman, Board of Trustees, Academy of Fine Arts, for giving me permission to use the pictures of few paintings of Jamini Roy, from the museum collection, to develop the public program with an educational motto. I am thankful to Ms. Akansha Ghosh for helping me with the idea of the usage of different apps for photo, audio, and video editing.
I convey my special thanks to Dr. Madhuvanti Ghose, Alsdorf Associate Curator of Indian, Southeast Asian, and Himalayan Art, Arts of Asia, The Art Institute of Chicago, for her encouraging support and resourceful curatorial advice.
---
Sources of information
Jamini Roy | Wikipedia
https://en.wikipedia.org

 › wiki › Jamini_Roy



Jamini Roy Biography - Paintings & Artworks, Life History ...
www.culturalindia.net

 › indian-art › painters › jamini-roy



Jamini Roy | Artnet
www.artnet.com

 › artists › jamini-roy



Jamini Roy - Google arts & Culture
https://artsandculture.google.com

 › entity › jamini-roy



Jamini Roy - National Gallery of Modern Art, New Delhi
https://ngmaindia.gov.in/sh - jamini -roy.asp

Pattachitra - Wikipedia
https://en.wikipedia.org

 › wiki › Pattachitra



Patachitra
www.bengalpatachitra.com


---
https://images.app.goo.gl/oVnEsUpKgfkHmky68
https://images.app.goo.gl/p6Yg7VxehJAGM6tf9
https://images.app.goo.gl/2yNqnXZv57wq4my68
https://images.app.goo.gl/51jbwhhQPuGXC45y6
https://images.app.goo.gl/Lo8jb5qPVU4URKF58
https://images.app.goo.gl/9xFizvs5SCZ5vsu48
https://images.app.goo.gl/nHsQ6nTCgW8okzpN8
https://images.app.goo.gl/RhsVenqu1tuLqkJc6
https://images.app.goo.gl/NjbxGJUcUJdH381F7
---
Featured Image – A collage with 5 pictures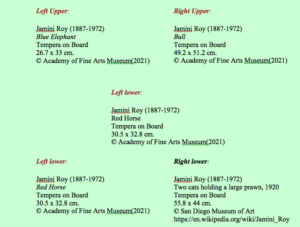 ---
---
©Explore the world of animals in the art of Jamini Roy: Dr. Baishali Ghosh, Curator, Academy of Fine Arts; Images are copyright of Academy of Fine Arts, Kolkata, West Bengal, India.