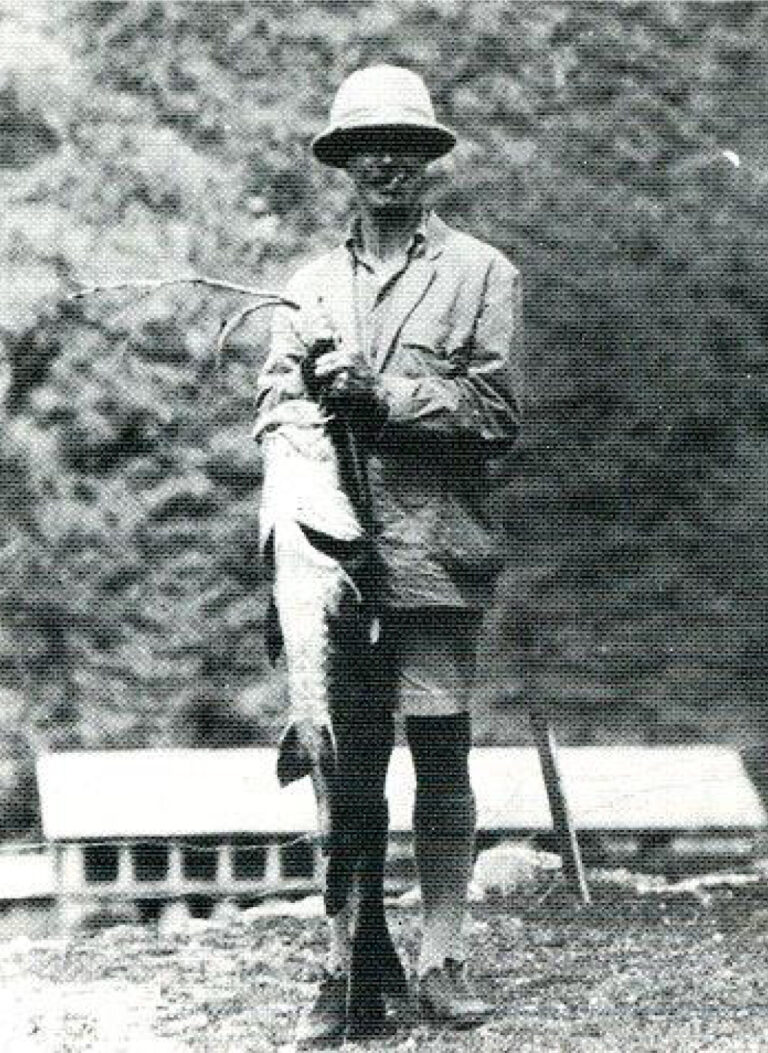 "If we don't bestir
ourselves now, it will be to our discredit that the fauna of our province was
exterminated in our generation and under our very eyes, while we looked on and
never raised a finger to prevent it" Jim Corbett, India
Knowing Corbett
Jim Corbett was looked up by the people of Kumaon not only for his selfless courage and determination in tracking down man-eaters but also as a conservationist and a humble and a generous person  who loved and cared for the people of the region. His passion for the forests and wildlife led him to be a pioneer photographer, filmmaker, an author of 6 books on nature and an activist who was instrumental in the establishment of the first national park of the Indian Subcontinent. Be it his contribution to the army, settling his tenants, medical or monetary assistance to the locals, he was forthcoming in all and for this he is remembered with admiration and awe even today. He was also Honorary "Magistrate" and was accorded the "Freedom of the Forests"-a right to enter any Reserve Forest in India.

Jim Corbett with his mother Mary Jane Corbett, brother Tom and sister Maggie
Nainital,Uttarakhand,India
19th century
Family photograph 
©Jim Corbett Museum,Kaladhungi,Uttarakhand
Edward James (Jim) Corbett, the eighth child of Christopher and Mary Jane Corbett was born on 25th July 1875 in Nainital. He was very fond of his eldest brother, Thomas (Tom) Bartholomew, and shared a precious bond with his elder sister Margaret (Maggie) Winifred. His mother Mary Jane, an ardent, pious Anglican was a pillar of the Christian community in Nainital. His father Christopher William Corbett (1822-1881) became the postmaster of Nainital in 1878. Everyone in the family spoke at least two Indian dialects; Hindi and Kumaoni.
Jim Corbett give up hunting as a sport in 1930 and hunted only for safety of human life. He soon become famous for killing man-eaters by his deep knowledge of the jungle.He did not accept any reward for his shoots as he considered it a public service. He shot his first man-eater, the tigress of Chamapawat (Kumaon hills, Uttarakhand, India)  in 1907 at the age of 31. He was rewarded with the Kaiser-i-Hind in 1928 for killing the Rudraprayag (Garhwal  hills, Uttarakhand, India)  man-eater which had raised questions in the British parliament after killing over two hundred  people. The man eaters where usually named after the places they were shot. He shot his last man eater at the age of 71 in the Ladhya valley (Kumaon hills, Uttarakhand, India) in 1946. After shooting 10 man eaters that he mentions in his books he established his reputation as a slayer of man-eaters and was looked up with much respect.
Reminiscence of Jim Corbett by Mr Ranjit Mathur,2020

  
Mr Ranjit Mathur remembers his interaction with Jim Corbett when he was 9 years old in Nainital and Corbett's slide shows in his school where 
Jim Corbett would roar  like a tiger and bring the jungle alive to them.
Some Memorabilia


Photograph of the original 
front load,.275 Rigby bolt-action rifle 
brought to Jim Corbett Heritage village 
for display by John Rigby & Co,London
Nainital, Uttarakhand,India
2016 
49 x 1.9 x 5.5 inch 
Iron & Wood
Photograph at the Jim Corbett Heritage Village,Chotti Haldwani,Uttarakhand    
©Private collection
This gun was presented by Sir J P Hewett, KCSI, Lt Governor, United Province  to               Jim Corbett for killing of the man-eaters of Champawat in 1907. It was later acquired by John Rigby & Co who brought it from Oxford University Press,London.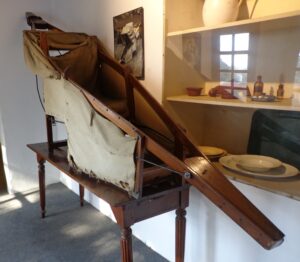 A Dandy 
Nainital,Uttarakhand,India
19th Century
Wood and canvas
118 x 22 x 40 inch
©Jim Corbett Museum,Kaladhungi,Uttarakhand

Dandy's were used to carry the old people and children uphill to Nainital (2084m) from Kaladhungi (493m) in the absence of vehicles, on the bridal path through the thick forests.  Nainital was discovered by the British in 1839 to spend summers. They traveled all the way from Delhi-Moradabad-Lucknow to escape the harsh summers of the plains. Jim walked up and down this path several times, often to attend meetings in Nainital, from Kaladhungi .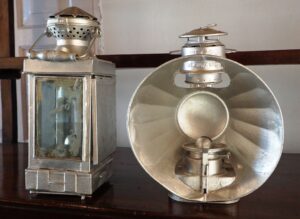 Lamps used by Corbett while serving with the railways
Nainital,Uttarakhand,India
20th Century
Alimunium
18 x 12 x 10 inch
20 x 7 x 7 inch
©Jim Corbett Museum,Kaladhungi,Uttarakhand


Corbett served the railways for  22 years and it was during his holidays when he came to Kumaon that he shot most of the man-eaters. These lamps which were used by the railways  were brought by him as soveriours to his house in Kaladhungi.
Corbett worked in Bihar from 1892 till 1914. At seventeen and a half years, he joined the Bengal &North-Western Railways (BNWR) as a temporary fuel inspector and was posted first to Bakhtiyarpur, Samastipur and finally to Mokama Ghat, earning one hundred rupees per month.
The responsibility  for the clearance of over one thousand five hundred acres of forest affected him and deeply saddened him and set the stage for his work as a conservationist. Along with Ram Saran, the Station Master at Mokama Ghat, he stared a school for the children of his labourers and clerks, something unheard of till then. He also freed them from the moneylender's debt with the help of law. The kindness, generosity and humanity of the 'Sahib' who shared his profits with his labourers and coolies are still remembered.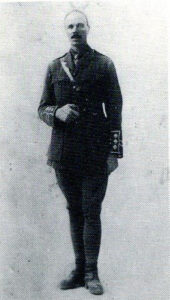 Col Edward James Corbett in uniform
Nainital,Uttarakhand,India
20th Century
Photograph in uniform
©Jim Corbett Museum,Kaladhungi,Uttarakhand
Jim Corbett was decorated with several awards and honours. He received the volunteer's decoration in 1920 for his contribution in the First World War. In 1942, he was awarded the O.B.E. (Order of the British Empire).He also received the uncommon and seldom awarded C.I.E or Companion of the Indian Empire and the Kaiser-i-Hind in 1928.
He was very keen to join the army. In 1914 when the First World War broke out he offered his services but was rejected. In 1917, at forty-one, he was given a wartime commission as Captain to raise the 70th Kumaon Company, comprising five thousand volunteers. He also recruited a personal unit of five hundred young Kumaoni soldiers whom he led to France and later to Afghanistan in the third Anglo Afghan war.
Not once did he quit the side of his men, and they looked up to him not only as an officer but a comrade  and his reputation of a fearless hunter as well as a gentleman and a lover of the Kumaoni hill folk helped him bond with his men. On his return to India, he was promoted to Major. In 1944 he was re-commissioned as a Lieutenant-Colonel and appointed a senior instructor in jungle craft. He was posted to Chindwara in the Central Provinces. After the war, he was promoted as Colonel.
Journey Towards Conservation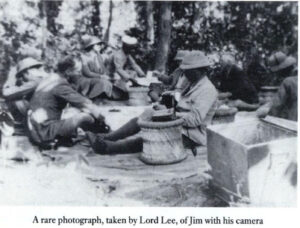 Jim Corbett with his camera
Nainital,Uttarakhand,India 
20th Century
Photograph with friends
©Jim Corbett Museum,Kaladhungi,Uttarakhand
'Take nothing but photographs, leave nothing but footprints said  Jim Corbett. In his first edition of 'Man eaters of Kumaon' he mentions that it was the photographs of F. W. Champion , a forest officer posted in United Province, that first inspired him to take photographs of tigers. Photography intrigued him but did not confine himself to still shots for long.
In 1928, he was gifted a Bell & Howell 16mm movie camera  from Lord Strathcona. Jim Corbett was probably the first filmmaker to capture wild tigers on cine film.
His cameras were driven by clockwork, cranked by hand and was very noisy. At his jungle studio, he built a machan from where he filmed animals as they came to drink water. The noise of the running water masked the sounds of the camera. If the water was not enough he supplemented it with his own bird calls and insect noises.
The highlight of his tiger calling were some amazing black-and-white footage  in the spring of 1938, showing seven tigers, including a white one. With his films he visited schools, hospital wards and small social gatherings to spread the first lessons in conservation. His lectures were illustrated initially with still photos and later with his movies and he called them the 'Jungle Telegraph'.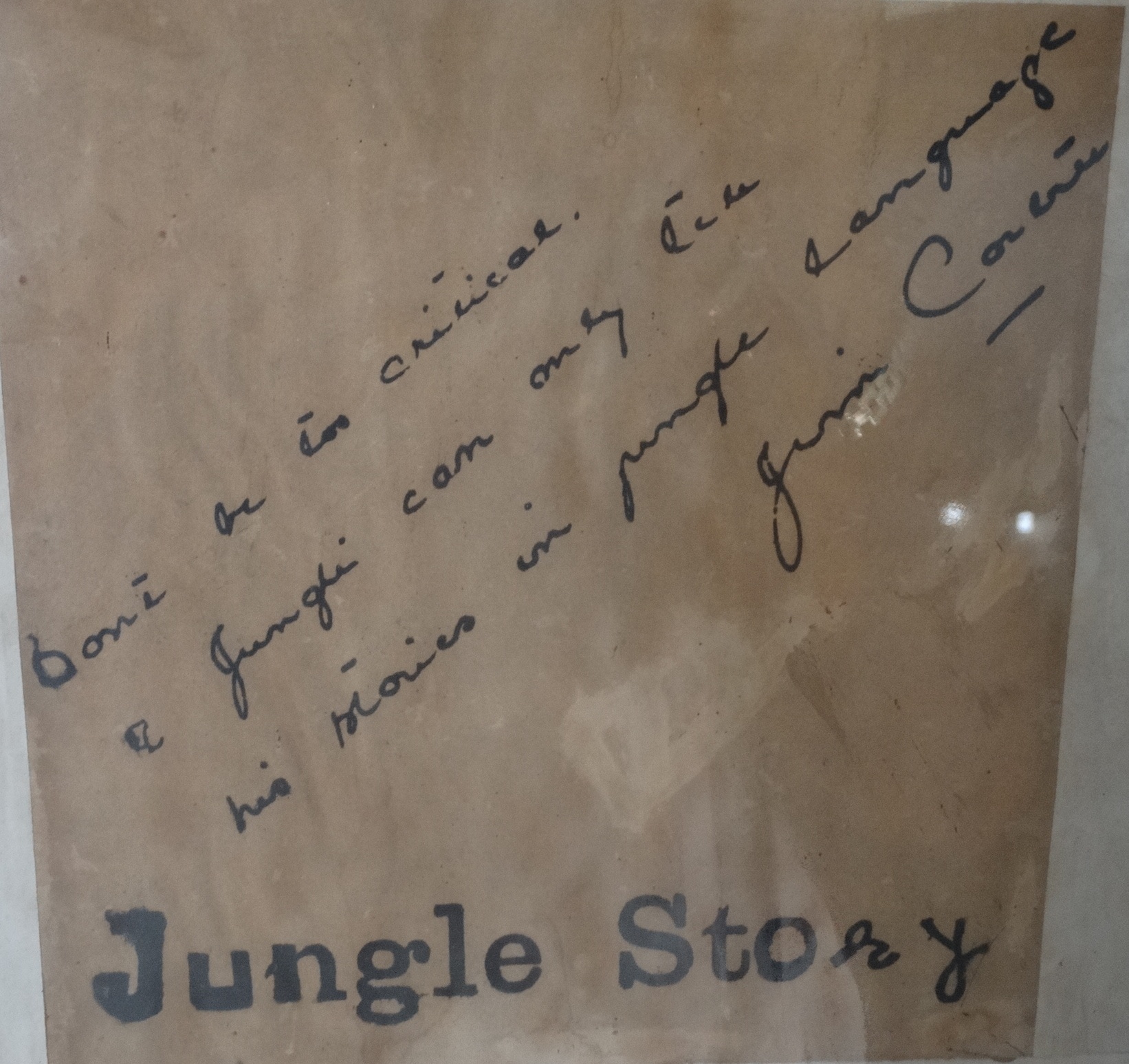 Inside cover of the first binded book
with Jim Corbett signatures of which only 100 copies 
were printed
Nainital,Uttarakhand,India 
20th century 
Photograph from the original book
©Jim Corbett Museum,Kaladhungi,Uttarakhand
Jim started writing in newspapers and several magazines on conservation of  forests and wildlife. Later he was persuaded to pen down his jungle experiences. Never having kept a dairy or a record of his stories, he relied on what he says were metaphorical 'photographs' in his memory and actual ones in his album.
His 6 books where published by Oxford University have never gone out of  print. His first book the 'Man-Eaters of Kumaon,' was  published in 1944 and was an instant bestseller. Sir Maurice Hallett (Governor of United Province 1939-45) wrote the introduction and Lord Linlithgow (Viceroy of India, 1936-43) wrote the foreword. This inspired him to write more of his experiences in the jungles of India.  In 1948, 'the second book 'The man-eating Leopard of Rudraprayag', was dedicated to the victims of the animals itself. His third book "My India" published in 1952 "in memory of the poor in India" . Then came  'Jungle Lore', his fourth book in 1953.  It was about life in the jungles, his own childhood, about his love for the natural world and how he came to hunt. 'Temple Tiger' was published in October 1954. Tree Tops his last book was published after his  death in 1955 and is the only book in an African setting.His books have been translated into several languages of the world and even for the visually impaired and
The Leagacy of 'Carpet Sahib'
A Childhood in Chotti Haldwani, Shiksha Bisht-2020

   
A child from the Jim Corbett heritage village talks of the legacy of Jim Corbett in her village. She mentions the several heritage structures 
built by Corbett which are being conserved by the community and how the children are still following his footsteps by reading his books.
                                                   
                                          View of Jim Corbett Heritage Village,Chotti Haldwani
                                                       Nainital,Uttarakhand,India
                                                             21st Century
                                                 Photograph of fields of the village with rice crop
                                                            ©Private Collection
Around 1915-Corbett purchased the village of Chhoti Haldwani. He paid one thousand five hundred rupees forit This was his personal venture and he bought it for sentimental and philanthropic reasons, to uphold the family legacy of landownership and to do something meaningful for the poor people of region. Over thirty years that Jim owned Chotti Haldwani he encouraged the villagers to grow new crops for better diet and also for profit.He imported new banana trees from Tanganyika, along with grapevines. His most successful import was large kernelled maize from East Africa. Later, he even tried growing coffee. He built a network of waterways to irrigate the farms, a boundary wall to protect them from wild animals and 'chaupals' to sit on and guard them. When he left India he made his tenants masters of their land and continued to pay their taxes from far away Africa, a gesture quite unheard of.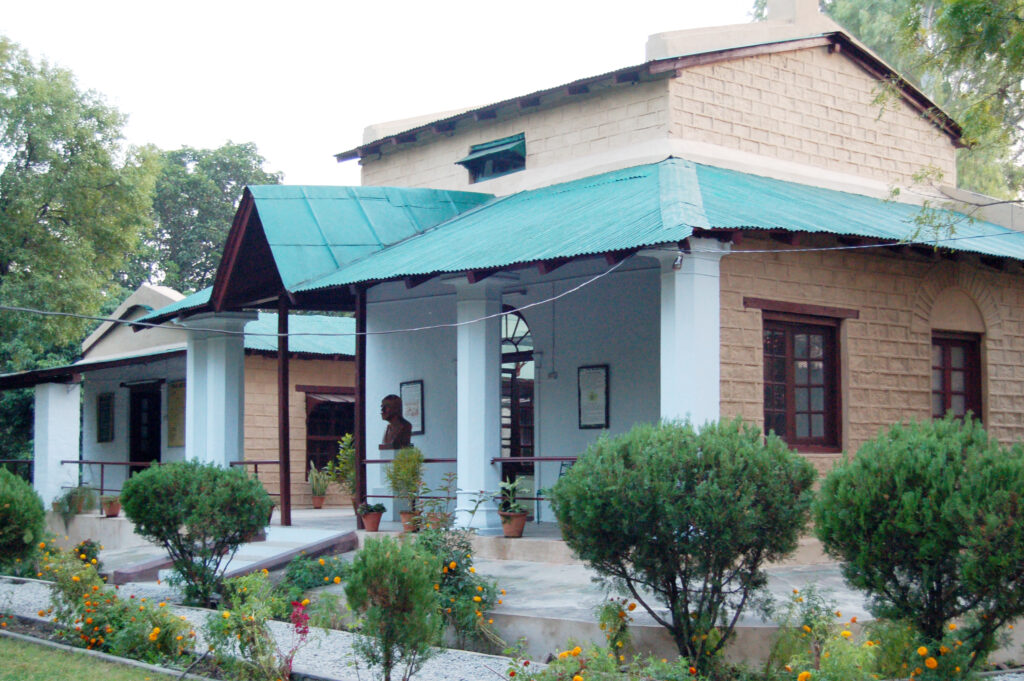 Jim Corbett's house in Kaladhungi was converted into a museum in 1967,after his death in 1955
                                                by the Forest Department of Uttarakhand 
                                                        Nainital Uttararkhand,India                                        
                                                              21st Century  
                                                         Photograph of the museum
                                                            ©Private collection
The legacy of Jim Corbett lives on and is represented in several ways even after his departure from India in 1947. In 1968, one of the five remaining subspecies of tigers was named "Pathera Tigris Corbetti" after him. In 1975 his birth centenary was celebrated with great zeal during which a booklet and a stamp were released and public were held at several places. He is represented in several folk songs of Kumaon. There are five biographies on him, the first being printed in 1979. The BBC in 1986 produced a docu-drama on his life  titled "Man-eater of India". An I-Max film on him titled "India-Kingdom of Tiger" made in 2002. 2019 , the Forest Department of Uttarakhand produced a film called 'Corbett legacy' which included the black and white footage of films shot by Jim Corbett.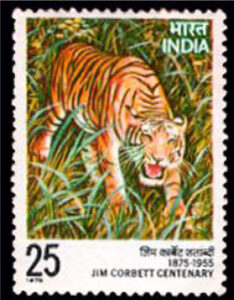 Stamp released during the centenary celebrations of Jim Corbett
Nainital,Uttarakhand,India
1975
Photograph of the stamp
1.5 X 1 inch
©Jim Corbett Museum,Kaladhungi,Uttarakhand

Corbett Tiger Reserve,Uttarakhand,India
Jim Corbett actively championed the cause of wildlife conservation, much before such thoughts entered common parlance. Due to his sustained efforts, 323.75 sq.km area of the South Patli Dun valley, well known for its wildlife wealth was declared as a National Park in 1936. In 1955, it was subsequently named as 'Corbett National Park as a befitting tribute to the legendary conservationist.
Today, Corbett Tiger Reserve spread over an area of 1293.45sq km includes the Corbett National Park, stands as the finest tribute to the legacy of Jim Corbett. It holds the highest density of wild tigers globally and is also home to a large population of Asian elephants, leopards, gharials and several other species of endangered and rare flora and fauna.
Acknowledgment
Dr Madhuvanti Ghose, Alsdorf Associate Curator of Indian,Southeast Asian, and Himalayan Art, Arts of Asia, The Art Institute of Chicago
Vandana Sinha, Director  &  Stuti Gandhi, Associate Researcher, Center for Art & Archaeology, American Institute of Indian Studies
Director, Corbett Tiger Reserve, Ramnagar, Uttarakhand, India
Jim Corbett Museum,   Kaladhungi, Nainital, Uttarakhand, India
Corbett Gram Vikas Samiti, Chotti Haldwani, Nainital, Uttarakhand,India
Bibliography
Booth,M. (1997) Carpet Sahib, A life of Jim Corbett. Oxford University Press, Delhi
Bhartari, A.(2002) Walking with Corbett: A Walkaholic's guide to Jim Corbett's built heritage in Kaladhungi and Nainital, Bishen Singh Mahendra Pal Singh, Dehradun
Bharthari, A.(2020)Corbett Story:Unfolding of the Tiger Reserve,Bishen Singh Mahendra Pal Singh,Dehradun
Kala,D C.(1919) Jim Corbett of Kaumaon, Ravi Dayal, New Delhi
Jerry, A J, (2001) Under the shadow of Maneater's: The life and legend of Jim Corbett of Kumaon, Orient Black Swan Pvt Ltd, Hyderabad