Chelsea Santos
Assistant Curator, The City Palace Museum, Udaipur
Silver is a precious metal and in contrast to the title, the deposits of the metal, in the Indian sub-continent, are rather limited. It has however been extensively used and loved by all. In the Indian State of Rajasthan, particularly in the region of Mewar, its value perhaps outweighs gold for its ability to unite the sacred and secular, the common man and the nobility, and all of the species, across time. In design, and in its use, the silversmiths and their patrons, explored and perfected the skills down through the ages.
This Program explores the potential of the one of its kind Silver Gallery at The City Palace Museum, Udaipur, with respect to the above parameters and works towards an enhanced visitor experience.
---
Overview: Collection and Space
The Museum houses an outstanding collection of silver pieces ranging from secular to religious, regal, items of leisure and the everyday. A rich living tradition enables certain pieces from the collection to make its way out of the displays, during set periods of the year, and transform into items of ritual.
At present, the silver objects are exhibited in the 17th century structure called Amar Mahal, in the Museum. At different points of time, this space served various purposes; living quarters for the royal ladies, a treasury, to a space for rituals and festivals. Architecturally too, the space holds significance.
---
Re-envisioning the Gallery
Display, themes and navigation paths
The new display will be distributed across the rooms as per selected themes, with a new navigation path for visitors, allowing them to explore collections up-close. Fewer pieces will be up for viewing. Iconic objects from the collection will be on permanent display, in new locations, while smaller pieces can be rotated.
---
Contextualizing the objects
Visuals
Across time, various mediums have successfully captured the use of silver.  The present display makes use of some of these visuals. The proposed exhibition will make use of new visuals from the archive as also provide present day contexts. Varied formats such as audio-visuals, photographs, paintings etc. can be explored.
---
The narrative
Visitors to the gallery would be able to engage with the collections in a more fruitful manner. Selected pieces could be written about in greater detail, with effective illustrations where necessary, in the labels. The individual themes outlined could be further enhanced with text panels.
The following is an example of a do-able label which could be more appealing and easy to comprehend. The label is for the horse jewellery/ harness and is proposed to be illustrated with images, as seen in the scan image above.
Label example-
Horse Harness (Ghode ka Saajh)

Silver, cloth, wax

Late 19th, early 20th century

CPMU  2014.29.0009



The horse is a cherished companion.  As a reflection of its owner's pride and wealth, a horse would traditionally be adorned with silver jewellery. More the jewellery and beauty of the horse, greater the prestige or position of its owner! 

The tradition of making these pieces continues till date, with silversmiths retaining the same moulds that created the pieces of this set. 

(the following could be illustrated and provided with text)

Bridle (Mora) - face ornament- controls the horse

Crupper (Dumchi) - tail ornament, attached to the saddle-prevents saddle and other equipment from sliding forward

Chest Band (Phuldi)- chest ornament, attached to saddle- prevents saddle from sliding backwards


Necklaces (Halra)

Neveri- silver ornament worn on the right knee
---
The multi-sensory experience 




Interventions for a multi-sensory experience. 
Illustrates room/theme wise scope for experimentation
---
An Augmented reality
On entering Amar Mahal, one comes across a very large courtyard called Bhandar Chowk. The area was utilized, in former times, for ritual purposes and others. At present, it boasts of a Hindu marriage pavilion (mandap).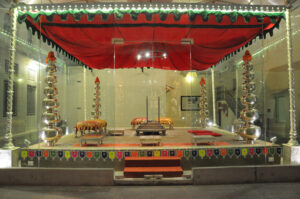 Hindu Marriage Pavilion (Mandap)
The new exhibition looks at using the space as it is, sans the mandap. Seating space would be provided for visitors to sit down and appreciate the beautiful architecture, and also explore the augmented reality (AR). The AR would make use of photographs and paintings, as available, of the space, and provide context, supplemented with a story type narration.
---
Dioramas
The proposed exhibition begins with a diorama of the mining/ processing of silver. Doing so will bring in fields such as   geology and geography, while also establishing an added emphasis on silver smithy and its tradition
---
Live-demonstration
The collection reflects various traditions and types of silver smithies, some of which are local and are practiced till date. Different smiths could showcase their respective skills, on a rotation basis. This section works at bringing in the local connect, pooling in the smith communities, in addition to bringing in an appreciation for their craft.
---
Sound
A subtle sound of bells would accompany the rituals items, to awaken the visitor and provide the peaceful aura of the temple.
---
Life sized model
In the section on gaming, a life-sized human figure engaging in a traditional board game would provide context. Visitors could also use this corner to engage in game.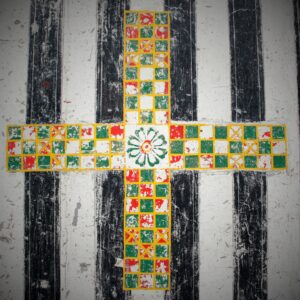 Ancient board game of Chaupad, painted on floor, 
Bhim Vilas, The City Palace Museum, Udaipur






---
QR Codes
The gallery could be provided with several QR coded points, to explore different aspects of the space and collection as one proceeds through the gallery. Examples include architectural facts, close-up details, etc.
---
Audio-guides








Multiple voices come together to give the visitor the holistic experience. Hear audio stories by curators, conservators, smiths, members of the Mewar Family, priests, locals connect to the pieces on display.











Special audio-narrations such as below, could be created for children
Paduka
Paduka (Traditional Footwear)
The word Paduka is derived from the word Pada meaning foot, and could denote either foot marks or in this case, footwear. This particular type of a traditional footwear is found in India, and its neighboring countries. Its shape, size, and material would depend on the status of the user or the occasion.
There are two parts to a Paduka; the sole and the knob. This particular piece has a large sized wooden sole, with limited engravings, and a silver knob. The knob is held between the largest and the second largest toe, and requires a lot of practice and restraint on part of the wearer. This one was used by the head priest from Shree Eklingnath ji Temple, Kailashpuri that is situated at a close distance from Udaipur.
Imagine wearing this footwear; do you think it would be easy to get going?
---
Interpretation Room



A central chamber in the gallery is proposed as an interpretation room.
The room will have one space dedicated to reading material, publications etc.
in connection with the themes and silver traditions. 

The existing silver catalogue can be publicized here.







Another corner would have a tactile wall unit.

Ideas such as inscriptions, weights and measures, moulds, motifs,
variations in techniques, etc. could be conveyed through this 
installation.

For all visitors, and particularly for undertaking tactile walks.

A tactile book of selected objects could be created, 
accompanied by Braille text, for use in gallery, and for sale.


The central space of this interpretation room will feature 
seating space for audio visual viewing. The following topics
can be touched upon by way of videos:

1. Amar Mahal, its usage and transition
2. Rajasthan and the silver riches; its use, contexts etc.
3. Mining and silver smithy
4. Living traditions- Rath, Ram Rewari


---
PR and Outreach
In order to publicize the proposed exhibition, the following would be the course of action, with respective target segments
Visuals
What- Large sized visuals of object details, with gallery name and location
How- This could take the form of Billboards and Signage
Purpose-
Billboards are to target the potential visitor; local, domestic or international
Signage is to inform and attract the visitors in the Museum, about the gallery. These could be visuals, posters as also directions to navigate through the Museum premises and the gallery
Locations-
Billboards
   Interior parts of the city
   On highways
   At Udaipur Airport
Signage
Entry points of the Museum
Within the Museum
Outside and inside the gallery
---
Education and Learning
Theme /  Mixed object based trails/ treasure hunts
Target Segment – Kids and Families
Event type – Free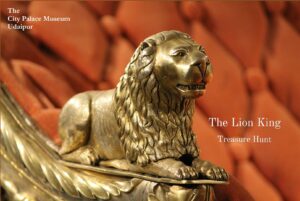 Topics:
Silver Scents
Ride on
The Lion King
Purpose – Fun based learning, engagement and exploration of collections
---
Gallery Brochure
Target Segment – Kids and Families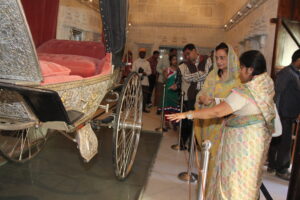 Event type – Free
Multiple gallery brochures could be created, with varying themes, and with a few selected objects in focus. This will enable audiences to look out and explore the space/ collections better
---
Activity Sheets
Target Segment – Kids and Families | Teens
Event type – Free
Simple exercises such as a match the following (below), amongst others to encourage the audience segment to observe and explore the collection
Match the following motif to object
---
Lesson Plans
Target Segment – Educators | Kids and Families | Teens

Event type – Ticketed
Lessons include field visits, online sessions and in-gallery discussions with curators, smiths, and other resource persons. It is aimed at enhanced learning, beyond the classroom, and how the collection can be used as a learning tool.
Post sessions, evaluation, feedback, and question and answers would be encouraged. Participants could be felicitated with certificates, post completion of course.
---
Our top picks
---
Level Up!
Choose Lesson Plans based on Difficulty Level
Suitable for age groups 3 to 7 years+
---
Choose from a series of lesson plans-
---
Shapes & Sizes


---

Motifs


---

Games & Toys


---

The Get-up!


---
Suitable for age groups 8 - 14 years
---
Choose from a series of lesson plans-
---
In the making


---

Design & Templates


---

Weights & Measures


---

Hallmarks & Engravings


---

Lost in transit


---
Suitable for age groups 15 - 18 years
---
Choose from a series of lesson plans-
---
The Seat of Power


---

The Art of Ornamentation


---

In Ritual


---

The Bhog


---

The Royal Gift!


---
---
View all Lesson Plans
Choose from a series of lesson plans-
---
Shapes & Sizes


---

Motifs


---

Games & Toys


---

The Get-up


---

In the making


---

Design & Templates


---

Weights &  Measures


---

Hallmarks &  Engravings


---

Lost in transit


---

The Seat of Power


---

The Art of Ornamentation


---

In Ritual


---

The Bhog


---

The Royal Gift!


---
---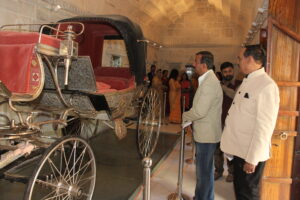 Gallery walk-through
Target Segment – All age groups

Event type – Ticketed
Regular, staff-led tours/ walk-through could be conducted catering to varied audience segments such as kids, teens, families, senior-citizens, locals, specialists, etc.
Post session evaluations could include activities such as discussions, question and answer sessions, gallery hunts, etc.
---
Workshops and Demonstrations
Target Segment – Kids | Teens

Event type – Free/ Ticketed
Hands-on learning on how silver objects are created, such as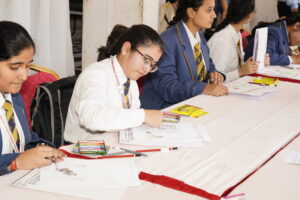 Creating templates/ sketch for your object
Processing – Silver bars to silver sheets
Demonstration – Use of Moulds
Engravings
Creating Hallmarks
---
Special Walks (Treks)
Target Segment – All age groups/ segments

Event type –  Ticketed
Purpose – To explore stories/ environments/ contexts of the silver wares, otherwise  housed within the constraints of the gallery. Enables better absorption and recollection of information.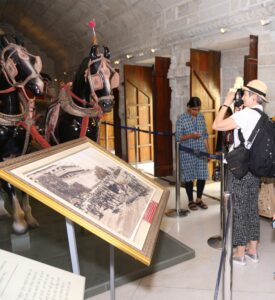 Activity –
Exploration of sites such as temples (Shree Eklingnath ji temple, Kailashpuri, temples in proximity to City Palace e.g. Jagdish temple), mines, etc.
Discussions and close observations of architecture (with use of activity sheets), in temple complexes
Behind the scenes- ritual, food preparations, in temple complexes, etc.
Object types in silver, in temple complexes
Processes involved/ types of staff/ expertise required in mines
Evaluation – Participants should be provided with on the spot quizzes or questions to evaluate the effectiveness of the program.  Token appreciation like badges or souvenirs could be provided.
---
Online learning- Talks, workshops, demonstrations, discussions

Target Segment – All age groups/ segments

Event type – Free/ Ticketed
Topics could include
Restoration of Amar Mahal
Amar Mahal in former times
Virtual tours of galleries, sites
Handling silver
Conceptualizing the gallery
---
Blogs by staff and audience – The Silver Connect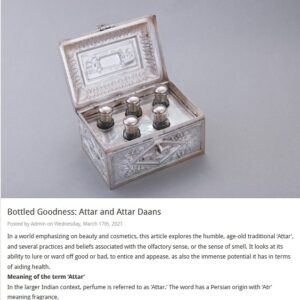 A series of blogs could be created by staff, on how they connect with the exhibits and silver in general. The above piece was created on Attar daans or perfume boxes and the tradition of making Attar.

Read it here: http://www.eternalmewarblog.com/bottled-goodness-attar-attar-daans/

To rope in audiences, particularly the elderly, the platform could be provided to them to provide content; stories about their heirlooms, their struggles, memories and much more, in association with the silver metal.



---
Podcasts ( Free )

Dive into the world of podcasts and audio stories!
This series would be dedicated to the local folk, and getting their voices heard. It would bring to light ideas associated with the white metal; reasons for investment in it, traditions and heirlooms in the family and closed kept possessions.
Purpose – These stories form a part of intangible history of the common folk, and would otherwise would be forgotten. This exercise aims to draw in the otherwise distant groups of people, and create the connect with collections and object types, while also creating a larger, inclusive narrative.
Evaluation – The outcome of this exercise should be evaluated with an increased footfall of locals to the Musuem / Gallery.
---
Videos (Free)
Varied type of content could be created to target various audience segments.
Videos could be made more accessible by making provisions of subtitles, closed captions, video transcripts, and sign language interpretations.
Topics that can be touched upon include-
1. Handling silver
2. Documentation
3. Curator's take
4. Ritual use
5. Preparations
6. Personal connect, etc.
Evaluation – Digital content is evaluated based on the number of views and shares. Active promotions by members of staff is a prerequisite.
The following video was created keeping in mind local populations who have some or the other form of silver in their homes. It talks about how the items for e.g. a piece of jewellery or a frame could be cared for. The language of communication was a mix of Hindi and English to aid in understanding of a larger audience.
Home Remedies for Heirlooms – Part 2
Art Conservators at The City Palace Museum, Udaipur on Care, handling and storage of metal heirlooms, including silver artifacts
---
Virtual Gaming (Free)

Target Segment  – All age groups

Purpose – To enable knew ways of engagement, learning and fun with collections
Word Search
Jigsaws
Point and click- rebuild the object
Embellish the object with the designs
A system of token reward could be set in place, e.g. downloadable stickers, or stamps based on objects
---
Access
Purpose – A series of Access Programs are proposed to enhance visitor experience and learning amongst varied audience segments
---
Target Segment -Visually impaired / Low vision
Minimal interventions to be considered
For visitors with low vision
Gallery labels/ Signage to make use of Large font
Test visibility of existing color schemes used in labels, pedestals
Appropriate lighting. Less illuminated spaces could reduce visibility
Ensure no obstructions in pathways
Activities
These activities provide the audience segment with other sensory experiences such as that of Sound and Touch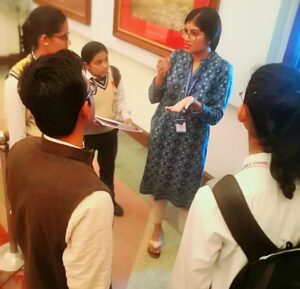 Verbal imaging – tours with detailed descriptions
led by curators, conservators and experts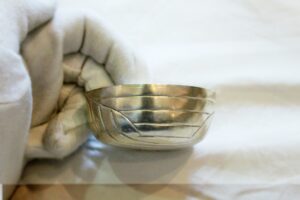 Art activities like clay- modelling, using various beads, threads, sequins etc.

Tactile tour, with use of tactile installation

Tactile/ Braille Book
Evaluation – Conversations must be established with the audience segment to receive feedback.  Frequent visits by this audience segment would suggest effective engagement/ audience connect
---
Target Segment – Development and Learning Difficulties and those on the Autism Spectrum

Resources/ interventions –
Map to navigate to the Silver Gallery, and set of instructions
This provision keeps the audience segment informed about what all situations they would come across from the start to the end of their visit; reaching the Museum, booking tickets, navigating through, persons they would encounter such as security checks, etc. It would also list do's and don'ts expected to be followed.
This audience segment prefers to have a checklist or pattern in place. This small provision will enable a more peaceful, relaxed visit.
Sensory Map
This audience segment, in most instances, would have different sensory experiences. The sensory map would mark out portions that are crowded/ less crowded, natural light/ subdued light, loud/ quiet. While bright lights, crowded and loud spaces could trigger some, others might not be affected. The sudden nature of the occurrence is also a reason for the trigger. A prior information in the form of the sensory map will help ease out the process and reduce instances of discomfort.
Picture cards and checklists
Picture cards are small cards with visuals and bite sized text. The picture cards provision enables the audience segment to prepare prior to the visit, on what to expect or look out for, rules to be followed, etc.. The visual checklist would mark out step by step what to expect in terms of navigation to object types. This provides a structure for them to work with, making the visit one of comfort, and easily self-navigate able.
Simple language for text panels
This segment comprehends language differently.  Text/ information panels/ brochures should thus be produced keeping this in mind.
They should be simple and easy to comprehend.
Keep sentences short. No unnecessary jargon.
Do not draw comparisons/ use sarcasm / dual meaning sentences
Use large fonts
Make use of color/ shapes to effectively mark out different types of messages
Use visuals wherever possible
Activities –
The structure should be informed prior to the event, with no last minute changes which could be a cause of distress
Special Tours/ Visit-silent tours/ early-bird tours
Persons on the autism spectrum particularly, may experience discomfort in loud, crowded and bright spaces. Provisions of an early visit would negate the crowded or noisy situation, allow for dimming of lights and perhaps have small priorly informed session/ discussion with them about the collection.
Story based learning 
Simple stories associated with the objects could be staged. It helps in the learning process. The story-telling could be supplemented with effective visuals.
Deconstructing objects – Use of labels, visuals
This activity could be conducted in person or virtually. It makes use of the picture-card pattern of learning wherein different aspects of objects are systematically spoken about with use of visuals and text labels. Any form of exercise or questioning should be given sufficient notice period
---
Tactile learning and Art making activities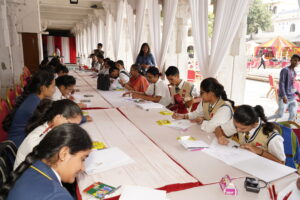 Sensory activities aid in learning as also provide opportunities to interact and communicate, as per their levels of comfort.
Evaluation – To evaluate the success of various activities, or their visit in general, a mood meter could be created. Various situations could be illustrated, with corresponding moods.  For e.g. The number of people in the gallery made me feel happy/ sad/ irritated, etc.
---
Target Segment – Physically impaired
Interventions –
Request for provision prior to visit
The Museum is housed in a historical structure which in itself is not the most accessible. However, provisions such as ramps, railings, accessible lift and toilet, amongst others, have been made wherever possible. The Museum has also welcomed and made special provisions where possible, of physical access for groups, on request. This possibility of requesting to have provisions such as extra ramps in place, should be cited on various digital portals and other means of communication. This will ensure better communication with the audience segment and the possibility of a more fruitful visit for them.
View collections online/ online exhibitions/ 360° experience of the gallery
For those that cannot physically access the Museum or the gallery, they should have the opportunity to experience it from the comfort of their homes, office or on the go. This will also enable greater reach and publicity for the Museum and its collection.
Evaluation – How frequently and comfortably one contacts and visits the Museum would be a reflection of the above exercise.
---
Target Segment- Hearing impaired
Interventions-
Use of Sign Language
While there has been an effort to introduce sign language on the digital front by the Museum, with plans for more grass-root level implementation by way of training guides in Indian Sign Language (ISL), there still can be a larger effort to that end. This means use of ISL at various levels
Physical and virtual  tours in ISL
ISL interpreters for online sessions, videos or any activity
Paced learning and viewing

Closed captions (cc)

While subtitles translate the spoken word, and aids more in breaking language barriers, closed captions are more for persons with hearing difficulties. It not just communicates/ translates the spoken word in a written form but also communicates various audio sounds, sound effects, names of the speakers/ persons and other non-speech elements, enabling a better understanding of the situation. The person has the ability to adjust how and where the captions appear and at what pace.

Video Transcripts

Transcripts are often for digital video content. Transcripts have the spoken word communicated in written form, with mention of respective time-brackets that they appear in.
Assistive learning devices
Audio-guides help break the language barrier. Assistive learning devices such as headsets/ neck loops with IR sound enhancement systems enhance the reach of the audio-guide; making it accessible to persons with hearing impairments. This will enable the audience segment to enjoy and understand the collection better, just as the others would.
Workshops / Activities, with ISL interpretations 
1. Storytelling sessions for kids
2. Treasure hunts and trails for teens
3. Sketching for teens and young adults
4. Sensory and hands-on learning- motifs, materials and moulds
Evaluation – A breaking away of the communication lag with this segment. Adequate staff and guide training to establish a more one to one connect with the segment rather than a dependency on interpreters.
---
Target Segment – Memory related- Alzheimer / Dementia / etc
Interventions-
Clear signage
Instructions must be clear. Directions, facilities etc. must be indicated or illustrated in the right manner. Universal symbols in signage, accompanied by text, would help them navigate through the space and give a sense of independence to function even in absence of a carer.
Sensory Map
Crowded or dull spaces could sometimes be disliked by this segment. A sensory map would outline these areas and help them be prepared or avoid the space, if desired.
Dementia friendly tours 
Short tours of the collection could be conducted with the help of trained staff. This would mean giving the audience segment opportunities to interact. There should not be a competitive approach or evaluation based system for activities designed for them. Part of the tour could involve multi sensory stimulation, with use of tactile wall unit for e.g. and could be ended with take away sheets or information brochures to summarize or have them ponder on the discussed idea.
Art and craft activities 
This also provides a multi sensory stimulation. Gives them the opportunity to relax, engage and be creative. Drawing, coloring, making prints with moulds, designing or re-imagining objects using art supplies, counting design patterns, etc. are some exercises that can be done.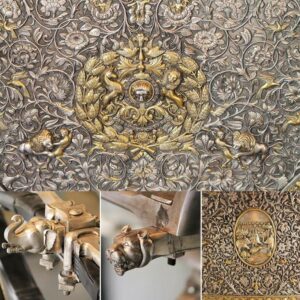 Silver memories
Brings together the audience segment on a regular basis, e.g. once a month, to talk about the collections they see, like or connect with, or a box of objects could be put together for them to experience and talk about and discuss in groups.
Evaluation – At the end of each session, colorful post-its could be shared, and participants be encouraged to jot down their names and how they feel after the session on one post-it, and what they learned/ took back that day, on another. These could be stuck on a board or a scrap book and looked back at later for reference. It would also help the Museum evaluate the success of the programs.
---
Marketing
This strategy is a three-tiered, based on the extent of the event and its reach. It aims to achieve a long-lived connect with new audiences, and also looks at revenue generation
Theme- Royal wedding
---
Suitable for Schools | Kids and Families | Visually Impaired
---
Available for purchase / rent
---
About- This Gallery in a Box explores the concept of royal weddings. Tactile 2 D and 3 D replicas of objects from the gallery lets the user learn hands-on with the collection.
---
Contents-
---
Replica of trousseau box (perfume/ dressing case)


---

A wedding photograph in procession (tactile)


---

Activity sheet on Coat of Arms


---

Coloring sheets, with activity on identifying shapes


---

Concept and instruction manual


---
This looks at drawing in the local smith communities. As part of this strategy, silver smiths would be commissioned to create miniature replicas of pieces from the collection. This when sold in what could be the Museum shop, or at the proposed Gala, would provide revenue to the community and also to the Museum. In the long run, this would be beneficial for both the parties.
Winter Galas with the Smiths
About-
Winters are cold in Udaipur. They are also known to be associated with the white metal. Traditions in the past make mention of wearing all white outfits, and silver ornaments, at the onset of the winters. In keeping with this thought and tradition, a Gala or fair could be organized at the Museum during the winters. It is also a time when visitor footfall is at a high.
---
How-
The Museum has to liaise with the local community of silver smiths. Smiths would be allowed to set up their stalls with replicas based on collections, and also showcase how these were made, the design, the effort and much more.
To organize this event on an annual basis, funders/ sponsors can be sought
---
Purpose-
Establish community connect
Increase footfall of visitors to the Museum
Revenue generation
Souvenirs for the visitors
Acknowledgements
Dr. Madhuvanti Ghose, Dr. Vandana Sinha, Ms. Stuti Gandhi and team for their inputs, support and encouragement
Workshop Fellows, for the discussions and their insight
Shriji Arvind Singh Mewar of Udaipur, Chairman and Managing Trustee, MMCF, Mr. Bhupendra Singh Auwa, Administrator in Chief, MMCF and Dr. Mayank Gupta, Deputy Secretary, MMCF Development, for their kind permissions and support
Dr. Hansmukh Seth, Associate Curator, The City Palace Museum, Udaipur for his inputs and support
Mr. Neeraj Soni, Visitor Liaison Executive, for his contributions to the blog on Attar-Daans, on request
Departments at The City Palace Museum, Udaipur- Media Office, Projects, Curator and Archives, for images
Family and loved ones for their encouragement and feedback