Dr. Keka Adhikari Banerjee
Sirpur: 
Sirpur, a small and forest infested village on the right bank of Mahanadi, is a place where Art and Archaeology meets Spirituality.  Located in the Mahasamund district of Chhattisgarh, India- this quaint town is one of  the India's most exquisite site after archaeological wonder. It is often described as a museum under the open sky. Sirpur or ancient Sripura lies with the ruins of numerous Siva and Vishnu temples, Buddhist and Jain monasteries, King's palace, granaries and a number of dwelling houses for all classes. According to the Archaeological sources unearthed so far, it was the land of art and architecture of ancient South Kosala. It is a very attractive tourist spot of Chhattisgarh as well as india, in the middle of the unspoiled natural beauty.
Location and Communication :
Sirpur ( Latitude 21° 25′ N and  Longitude 82°11′ E), about 85 kilometre  north-east of Raipur and is well connected by railways and roadways. It is accessible from Raipur by a four lane National High Way 53, regular bus services connect Raipur and Sirpur. The nearest railway station is Mahasamund (3.5 km.) and the nearest airport is Swami Vivekananda Airport at Raipur.
Role of the river -Mahanadi
The rivers as well as mountains and the forests – the isolation they create, have an impact on art and culture and also everyday activities of the people of a particular region. At Sirpur, river Mahanadi has played important role in shaping the art and culture and trade of the region. The lure of the forest has always been great and deep impact on the Indian mind. The Buddha too, practiced his austerities in a forest.  Sirpur is not an exception of it. It holds it's natural beauty till date.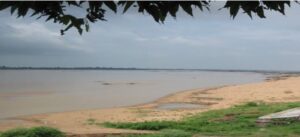 River Mahanadi, Sirpur is located at its right bank
Specific Profile of Sirpur :
In respect of region's own specific profile, one has to go through the ecology and history of the region. Sirpur is the place of contrary – where Vana and Kshetra determined social and political formations.
Vana  is simply forest though benign and bountiful but sometime fierce and intractable. In contrast Kshetra – related to cultural & economic formation tends to agrarian settlement. Sirpur is the perfect model of Vana-Kshetra and developed with maturity.
Visiting the place is a walk through history where one can reach beyond any religion:
Sirpur was the seat of Brahminisim and Buddhism during 500-800 CE as indicated by inscriptional references, coins, sculptures and architectural remains. In the Brahminical pantheon two most important sects – the Saivites and Vaishnavites were patronised by the rulers.
Co-existence of Hindu and Buddhist religions was remarkable. The effect of which was found in the adaptations of Brahminical  cult icons. The idea of Siva and Sakti was transplanted in Vajrayana Buddhism.
Due to the policy of toleration followed by the Panduvamsis- a religious syncretism developed.  Several inscriptions throw light on grants and donations given by the rulers towards temples and monasteries to meet their expenditures, repairs and reconstructions. Even the common people took part in construction of temples and had  high degree of respect to all religious sects.
Sirpur became the centre of education.
Archaeological Explorations and Earlier Excavations :
Systematic explorations of J. D. Beglar and Alexander Cunningham in the last quarter of the 19th century threw light on hidden remains of Sirpur. Sirpur became a major archaeological site after it was visited in 1882 by Alexander Cunningham, a colonial British India official. His report on a Laxman (Lakshmana) temple at Sirpur brought it to international attention. Besides, wide ranging remains of Rama temple, Gandheswarnath temple, Surang Tila( unexcavated) and a massive Buddha head identify its prosperous history and potentiality of the site.  Till date the temples are preserved so well that it speaks its glorious past.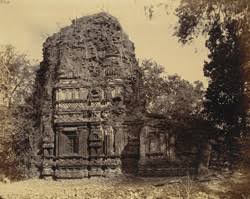 Lakshmana Temple as seen by J. D. Beglar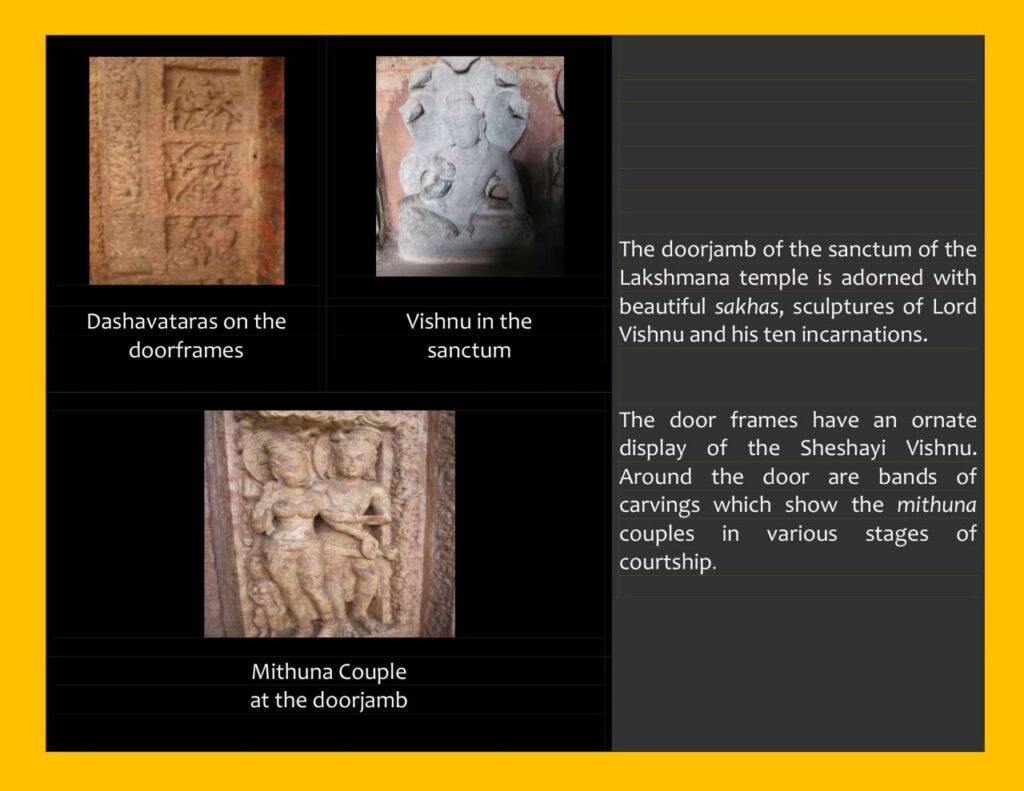 Laxmana Temple comes to live:
The Sirpur National Dance and Music Festival generally  held at the complex of the seventh century Laxmana Temple to make it memorable  as the heritage  city of Chhattisgarh.  In this super celebration, visitors and local people see the exhibitions by nationally and universally known artists including the local performers.
Sculptures at the Sculpture- Shed adjacent to the Laxmana Temple
Dvarapala, Sirpur, Raipur, Chhattisgarh, India, 700 CE, Sandstone (pink), ( At the Entrance of the Sculpture Shed, Lakshmana Temple)
Ambika, Sirpur, Raipur, Chhattisgarh, 500-599 CE Sculpture Shed, Lakshmana Temple, American Institute of Indian Studies. Acc No. 42139 Neg no.324.50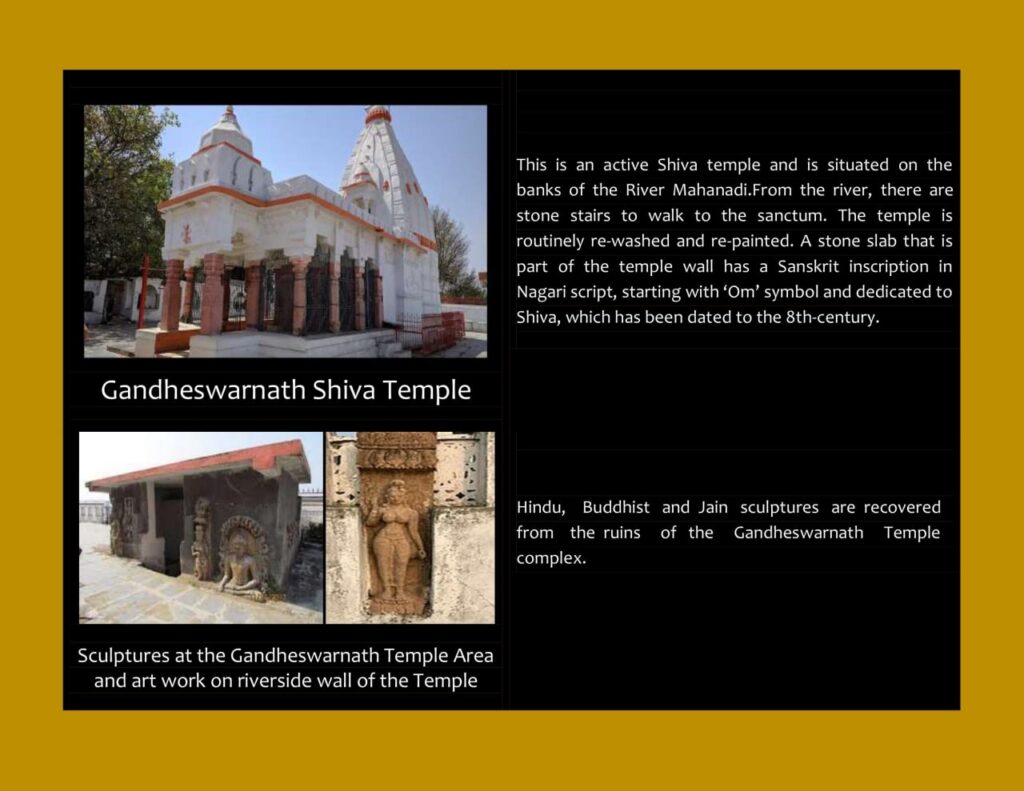 Looking into the Past :
The Allahabad Pillar inscription of Samudragupta (335-375 CE), the illustrious Gupta Emperor provide first reference to the South Kosala and clubbed it within the forested countries. So the political significance  of the region grew at the time of  the Imperial Guptas. Various inscriptions and copper plate grants throw light on the architechtural activities and town planning of Sirpur which provide a continuous history.
If we look back to the golden days,  Sirpur was the capital of the Sarabhapuriyas and the Panduvamsis of South Kosala during 5th-8th centuries and established a history dating back to the last quarter of 5th century A.D  with the discovery of a gold coin of Prasannamatra of the Sarabhapuriya dynasty. It continues up to the eleventh centuries during the Kalachuris of Ratanpur Branch.
Though the kings were Vaisnavite and Saivite respectively yet the Panduvamsi rulers were the active supporters of Buddhism too. At the middle of 6th century A.D. during the time of  Somavamsi king Tivaradeva,  Sirpur reached at its peak of glory. Hiuen Tsang visited Sirpur in 639 CE. probably during the time of king Mahasivagupta Balarjuna and saw as many as hundred monasteries inhabited by 10,000 monks, belonging to Mahayana sect and more than 150 temples.
Wider links with other parts of India :
In dealing with the art of the region it is very necessary to know about the routes which intersected this land and helped in trade and commerce, political rivalries, cultural ferment and dissemination of art impulses and styles. In tracing the wider links of ancient South Kosala – we have the Vakatakas of the Deccan, the Imperial Guptas of the north and its Mahanadi Valley connections to the east.
The main roads from the populous northern plains to the south have lain across the Vindhyas, more or less in the western section of the latter. There was another route which lay along the Mahanadi valley, from the neighbourhood of Benaras, Mirzapur or Allahabad, through the Chhattisgarh plains, and then along the narrow gorge of the Mahanadi, until it opened out into the delta at its eastern end.
Contemporary Buddhist Stupa  and image  of  Odisha  similar to  Sirpur Buddha :
Buddhist Association and Later development of Buddhism at Sirpur:
A composite religious form was developed in 7th-8th centuries out of Mahayana cult of Buddhism. Sirpur became the centre of Vajrajana cult or Tantric Buddhism and owes its origin to the concept of the doctrine of Dhyani Buddha's Bodhisattvas with their female counterparts. They laid stress on rituals with mystic implications connected with idol worships in different forms. The images of Dhyani Buddhas, Ratnapani, Vajrapani, Manjusri, Tara, Jambhala, Bhrikuti, Prajnaparamita,  Vijratara, Vasudhara and some inscribed images of this pantheon clearly indicate the influence of tantric Buddhism.
Monasteries :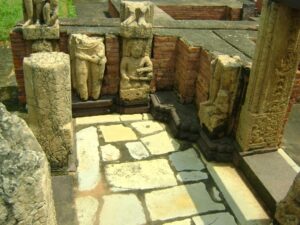 Anand Prabha Kuti Vihara
Excavations at Sirpur in 1954-55 unearthed two large Buddhist Monasteries.  The largest one is Anand Prabha Vihara  which was built by a Buddhist monk- Anand Prabha by name under the patronage of  the Panduvamsi king Mahashivagupta Balarjuna. It has the main Temple and the Lower Monastery. The main temple at Anand Prabha is regular on plan. With an elaborately carved gateway to the north beyond the porch it is flanked on either side by tall dvarapalas and with a large number of Yakshas along the side walls of the porch.   A colossal image of Buddha in bhumisparsha (earth touching) mudra is found in the central shrine and on the right of the image stood a life size figure of Padmapani. What is interesting to note that  the residents followed different professions like agriculture, pottery-making, gold-work etc. one room produced a complete set of goldsmith's tools.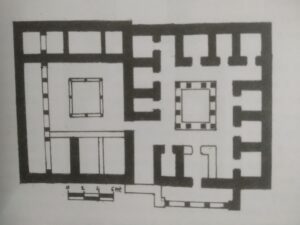 Ground Plan of Svastika Vihara
Sirpur, Mahasamund, India
700 C E
Brick, Stone American Institute of Indian Studies
Acc. No.DR-MP-00665
This Buddhist monastery was built in form of a svastika, open courtyard at the center flanked on sides by four wings, each wing containing three rooms and veranda facing the courtyard. The central room of the wing facing the entrance has an image of Buddha in bhumi-sparsha–mudra  (of height 8'6'').  He is accompanied with an image of Padmapani carrying a fly whisk. The south-west corner of the courtyard has an image of Hariti. A Chinese copper coin with a square hole in center, attributed to Kai Yuan (713-741 CE), was found in the monastery area suggesting Chinese pilgrims visiting the viharas.
Newly Discovered Temples :
Excavations  conducted by Dr. A. K. Sharma from 2000-2011 have brought to light Siva temple complex, a trinity temple, Buddhist monasteries, a Jain monastery, a sprawling palace complex, market places and priests' residences. Among them some of the temples and monasteries have interesting architechtural and sculptural splendours.
Excavation during 2003-04 brought to light one Siva temple complex. In this complex  twin  main temples in the centre and three sub-shrines in north-east, south-west and north-west are found. According to R.N. Misra in the post Gupta-Vakataka phase, art of  Sirpur institutionalised first under the Buddhist monastic settlements and then  under the Saiva -Siddhanta sect of Saivism. The outcome is construction of several temples under the aegis of Sirpur monasteries (Mathikas) near Bhaleswar or Baleswar village.
Surang tila is the largest temple complex in Sirpur. In 2005, a unique temple was unearthed in this complex where two Brahmanical deities i.e Vishnu and Siva are installed in two garbhagrihas (sanctum). The temples stood on two metre high stone platform with a common pradakshinapatha  (circumbulatory).
Besides a number of temples dedicated to Siva and Hari-Hara with Siva-linga, broken images of Vishnu and Priests'Houses are also found in this complex. Excavations at Sirpur have brought to light a number of Siva lingas in various forms including Chaturmukha Siva linga ( four faced Siva linga)
Tall grey monolithic Siva Linga placed in garbhagriha, Sirpur, Raipur, Chhattisgarh, India Granite, 800-900 CE Siva temple at the Surang Tila Complex,

Tivaradeva Vihara :
Excavation has yielded a good number of Buddhist temples with Buddha in bhumisparsha mudra, Buddhist deities like Avalokitesvara, Majusri, Hariti etc and monastic complexes at Sirpur. Among them  largest Tivaradeva and Harshagupta Vihara are of worth mentioning.
Mithuna or Amorous Couple, Sirpur, Raipur, Chhattisgarh, India, 800 CE, Reddish Sandstone, On the side panel of the entrance of the Tivaradeva monastery
The above two viharas were constructed in two phases as evidenced from a fragmentary inscription made of sandstone .  The original  one was during the time of Mahasiva Tivaradeva around 560 CE and later one was during his brother's son-Harshagupta. The Vihara comprises a highly decorated  entrance, richly  carved with erotic couples, animal figures, kirti-mukhas, stories of Panchatantra etc.
An Interesting Seal :
A baked clay seal of 5th-6th century A.D with Brahmi script ( language- Sanskrit) bearing the name of Taradatta,  the chief architect was discovered from this Monastery.
His Holiness Dalai Lama's Visit to Sirpur, 2013
Nagarjuna — a Buddhist Philosopher of 150-200 A.D. who is believed to have meditated in the caves near Sirpur in Chhattisgarh. Dalai Lama , a follower of Acharya Nagarjuna, visited Sirpur as a seat Buddhist sacred place in March, 2013.
Jain Monasteries and Secular Buildings :
A Jain monastery was unearthed nearly 300 metre east of Gandheswarnath temple in 2007. Besides a good number of Jain sculptures are found from Sirpur which indicates the strong presence of Jainism through traders. Secular Complexes like Granaries, Bath kund,  Market place and Residential complex of the kings  also indicate the prosperous township of Sirpur.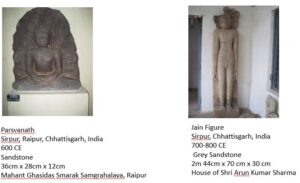 Art in Stone and Metal :
Sirpur developed individually in its art tradition with great creative vigour in the vicinity of art centres of Central India like Bidisha, Ujjain, Udaygiri, Nagpur etc. During 500-800 CE, the art of one region got disseminated into the other contiguous or distant regions and developed epicentres of art with their peripheries. It maintains more or less similarities in art style, idiom and mannerism. Being located in the periphery region,  with the link of legacy of Gupta art which gained a pan Indian character along with Vakataka art with its full fledged prominence – Sirpur witnesses a stamp of its own. A good number of stone sculptures belonging to all religious sects prove their indigenous style.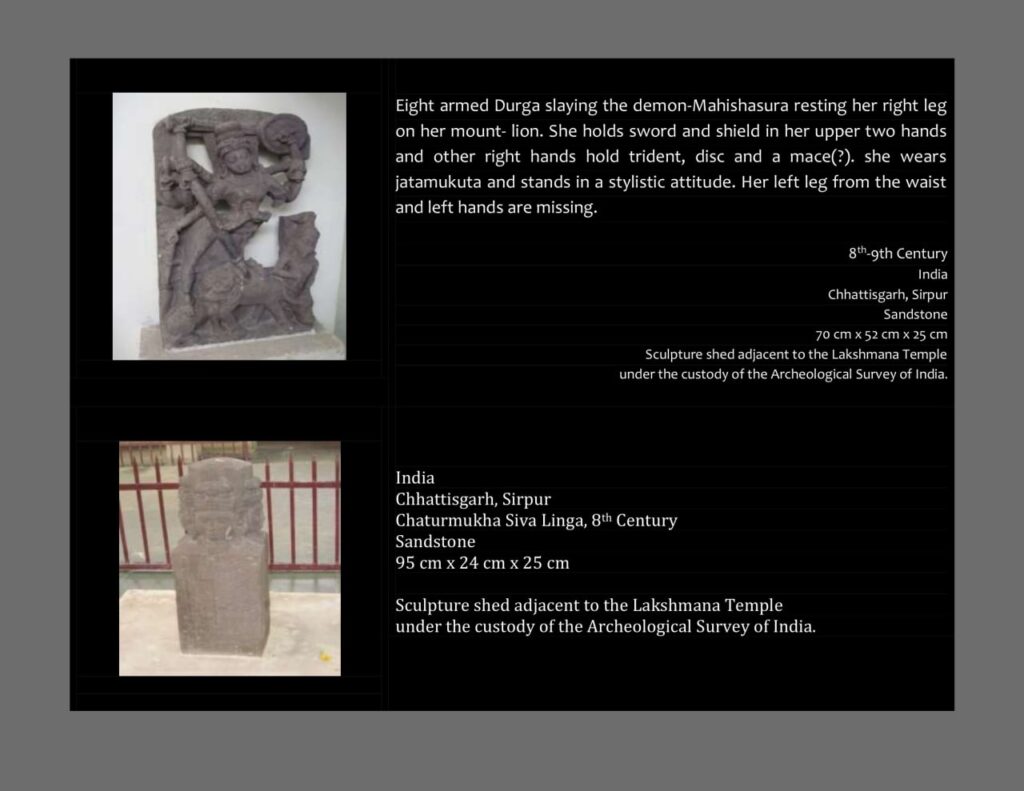 Red Letter Day in Sirpur's History :
On 13th January, 2008 a hoard of seventy-nine bronze icons of Buddhist deities, replica of stupas, raw materials and modelling instruments  unearthed from SRP-31 ( an excavated trench, in a monastery site, about 250 metre away from the Lakshmana temple) . The discovery has  identified that Sirpur had its own metal carving industry during 8th century CE. According to Geri Hockfield Malandra, Sirpur was a significant bronze workshop of ancient India and the Buddhist bronze artwork excavated from Sirpur are among the "finest bronze sculptures" of that era. Buddha in bhumisparsha mudra, Bodddhisattvas, Vajratara, Manjuvara, Padmapani, Majusri etc. with their treatment of draperies and various prabhamandalas with thick moulding or beaded line show delicate carving. A close syncretism of Mahayana Buddhism and Brahmanical Hinduism is found in the iconography of the Buddhist images. Altogether eighty-seven bronze images reflect local traditions of ornaments, dress and hold a charming beauty  in their physical expressions which give a sense of peace, serenity and love for human beings.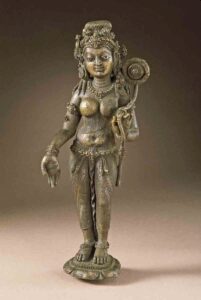 Green Tara
Sirpur, Raipur, Chhattisgarh ,India
700-799 CE
Copper alloy inlaid with silver
38.1 cm x 25.71 cm x 17.78 cm
Artist: Attributed to Kumaradeva, India, active in 8th century
Acc. No. ACSAA_07546
Michigan-ACSAA (Set 75, photo Los Angeles County Museum of Art II Early Bronze sculpture
Courtesy: American Institute of Indian Studies.
People and Artists of Sirpur :
The  indigenous people who have a remarkably strong presence in the demographic profile of the region can not be ignored.  An inscription attached with metal statue of Buddha give names of shilpis of Sirpur -Dronaditya and Kumaraditya. It suggests the artists with intense knowledge of metallurgy. Besides, the name of Dronaditya also occurs on sandstone pillar at the entrance gate of Surang tila Siva temple along with Kamaloditya. It indicates,  these artists were well versed in both -stone carving and metal casting as well. Another interesting feature that almost all foundation stones bear the first letter of the name of the mason engraved on it. As per inscriptional references during 6th-7th century A.D one Vishnudatta was the chief architect of the city.
Archaeo-tourism  at Sirpur:
Archaeological tourism is a form of cultural tourism, which aims to promote public interest in archaeology and the conservation of historical sites. Sirpur may be a type-site for its rich historical and archaeological background in India.
Good conservation of the monuments and excavated remains are required for tourists.
Interpretation sites to interpret the past history of the region in accordance with the archaeological heritage will provide a different outlook.
Light and Sound show may attract more tourists even the Buddhist pilgrims from various parts of the World.
Workshops for metal sculptures involving local artists with earthen crucibles, ingots and earlier style of  bronze melting etc. may  add to the interest of the site.
Prospects to be a challenging tourist destination : 
The place did not receive importance as a challenging tourist spot before 2000.  But when in the same year Chhattisgarh was announced as a separate state then the site of Sirpur has  been given priority. The excavated archaeological structures and temples are preserved by the Archaeological Survey of India, Raipur Circle and State Archaeology Department, Government of Chhattisgarh. Not only the site but the Mahant Ghasidas Smarak Samgrahalaya at Raipur where a good number of sculptures hailed from Sirpur are kept may be visited to get an overview of the region. The Museum or Sculpture shed adjacent to Lakshmana temple maintained by the Archaeological Survey of India,  is a precious collection too.
Within 100 kilometre, tourists can enjoy the beauty of Dashkund waterfall on Sirpur road, ancient Rajivlochon temple at Rajim, the holiest place of Chhattisgarh and Barnawapara reserve forest.
Sirpur enjoys Tropical Rainy climate with almost dry winter. So best time to visit the site is towards the end of October to February.  National dance and music festivals  held every year at the Lakshmana temple complex which attract large crowd. One of the major attractions of the festival, are the cultural performances by the local tribal artists. Apart from this various maestros adorn the centre stage. the festival generally held in the month of January.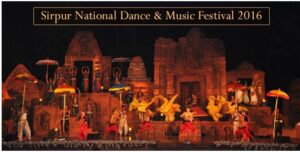 At present Archaeological Survey of India and Chhattisgarh Government have developed the site with good preservation of the monuments, location maps, paved roads, proper lighting and public amenities. Sirpur definitely should be a best tourist destination.
Monuments remain open from sunrise to sunset

Entry fee:

Indian Citizen – Rs 5/-

Nationals of SAARC country – Rs. 5/-

Foreign National – Rs. 100/-

Children below 15 years – free entry

( Source: Archaeological Survey of India)
Sirpur is such a site that provides a tranquil ambience of spirituality through the ancient remains.  For us, the people fortified in harness, Sirpur is undoubtedly one of the most serene places to visit as it takes one from the materialistic world to the spiritualistic world.
Acknowledgements :