Dr Vishi Upadhyay
Goddess Tara: An introduction
Tara, a female divinity prominently conceived during the 7th-12th century in India. She has a different appearance in Hinduism and Buddhism; as a yogini among the ten Mahavidyas in Hindu Tantra (Shaktism), and Tara as a female Buddha in Buddhism (Vajrayana). In Buddhism, 'Green Tara' and 'White Tara' are two forms quite popular. Regarding her origin, the Tibetan mythology explains, she originated from the tears of Buddhist god Bodhisattva Avalokitesvara. Being a mother of liberation, she represents the virtues of success in work and achievements and embodies various qualities of the feminine principles. Tara is believed to be a source of the female aspect of the universe, by giving birth to warmth, compassion and relief from unpleasant karma as experienced in the cyclic existence.
As Tara originated from the sacred land of India, and gradually spread across the world; the exhibition tours the journey of Tara worship through texts, images, videos and audio clips.
Audio credit: Enlightenment Aurora 2020, Green Tara mantra Om Tare tuttare  ture soha, https://www.youtube.com/watch?v=ZOo6bea9cNg&t=108s
Tara, the Bodhisattva
Tara obtained her position as Bodhisattva in Mahayana Buddhism (1st-4th century). She represents as a companion deity of Bodhisattva Avalokiteshvara, as seen in the cave art of Ajanta, Ellora, Kanheri, Kalre in western Deccan of India. Isolated sculptures are also spotted in various parts of India, and are of specific finds in the regions of Bihar and Bengal. Tara, in her form of Bodhisattva, she helps disciples to attain the enlightenment which consists of the ultimate part of Buddhism.
Tara, the Saviour
Tara, means star or planet and therefore she has been associated with 'navigation and travel'; metaphorically considered as the spiritual crossing of the ocean from one part to the other part (towards enlightenment). She is known as who saves in Tibetan as the leader of caravans. She protects from eight kinds of fears in her Ashatmahabhaya form: Lion (pride), wild elephants (delusion/ignorance), fires (hatred and anger), snakes (jealousy), bandit and thieves (wrong views), bondage (avarice and miserliness), floods (desire and attachment) and evil spirits and demons (deluded doubts).
Tara, the mother goddess
Motherhood is central to the conception of Tara. Being known as supreme mother, mother of the world, universal mother and mother of all Buddhas; she engenders, nourishes, smiles at the vitality of creation, and has sympathy for all beings as a mother does for her children. She is associated with specific powers in certain colours; Tara, in white colour, expresses maternal compassion and offers to heal who are wounded (either mentally or physically).
Green Tara, she offers protection from all the unfortunate circumstances. She is not only associated with human beings, but also with the nature of flora. A forest goddess in her form of Khadiravani, is related to the plant life, flower, acacia (Khadira) trees and the wind. She is the saviour of wildlife and associated with the element of wind (vayu). Tara is found to be attended with her consorts, Ekajata and Ashokanta. A long stalk lotus in the left hand is a symbolic identification of her.
Yellow or Golden Tara offers prosperity and abundance to disciples.
Blue Tara, appears as a protector in the Nyingma linage, who expresses a ferocious, wrathful, female energy whose invocation destroys all religious obstacles that engender good luck and swift spiritual awakening.
Red Tara, teaches discriminating awareness about created phenomena, and how to turn raw desire into compassion and love.
Tara, the Tantric deity
A major strand of Tara is to be a Tantric deity in Hindu Tantra (Shaktism) and in Buddhist Tantra (Vajrayana). Tara conceived this position in 7th century. She is a potentiality latent within every sentient being's of mind. The disciples get empowered by Tantric practices and so eventually reach the full realization of Tarahood. Many Tara mantras, mandala (chakra), erotic images of deities, help practitioners to attaining the desired enlightenment by worshipping the Tantric Deity, Tara.
 Audio credit:  Chant central, 2019, Gayatri mantra of goddess Tara, https://www.youtube.com/watch?v=luKB67o3d6k&t=747s
Tara, in the living traditions
Tara worshipping is still in practice among both the traditions of Hinduism and Buddhism. Particularly found among the groups of Paubha painting artists (Newari communities on Nepal) and Thangka painting artists (originated from Tibet) in countries like Nepal, Tibet, China, Taiwan, Japan, Korea and in South East Asian countries. These paintings are associated with Hinduism and Buddhism. The contents of the paintings are Buddha and other Buddhist deities including the 21 forms of Tara. However, it is not meant that the living tradition of Tara's worship does not exist in India; Tara in India is associated with Hindu rituals unlike Buddhism in other nations. Temples of Goddess Ugra Tara are located in Mahishi, Saharsa (Bihar), Berhampur, Ganjam (Odisha) and in Guwahati (Assam). Sanku in Nepal is also a famous living temple site of Ugra Tara. Animal sacrifice during the Navaratri festival, makes the Hindu tradition distinguished from Buddhist.
Video credit: Hindu gods, 2020, Ugra Tara temple, Guwahati, Assam, India, https://www.youtube.com/watch?v=aAVt4M810f0&t=57s
Tara, beyond the  boundaries
Despite the fact on the origin of Tara being from India, it received a superior position in the neighbourhoods, Nepal and Tibet in 11th-12th century in the form of Buddhist Tantra (Vajrayana). On the other hand, over the course of time, Buddhism spread across Sri Lanka, China, Japan, Korea, Taiwan and South-East Asia. The spread is evident from many cultural materials ranging from sculptures, paintings, manuscripts and temples themselves. Therefore, Tara is not bounded by geography, rather she is ascended by the demography and time.
.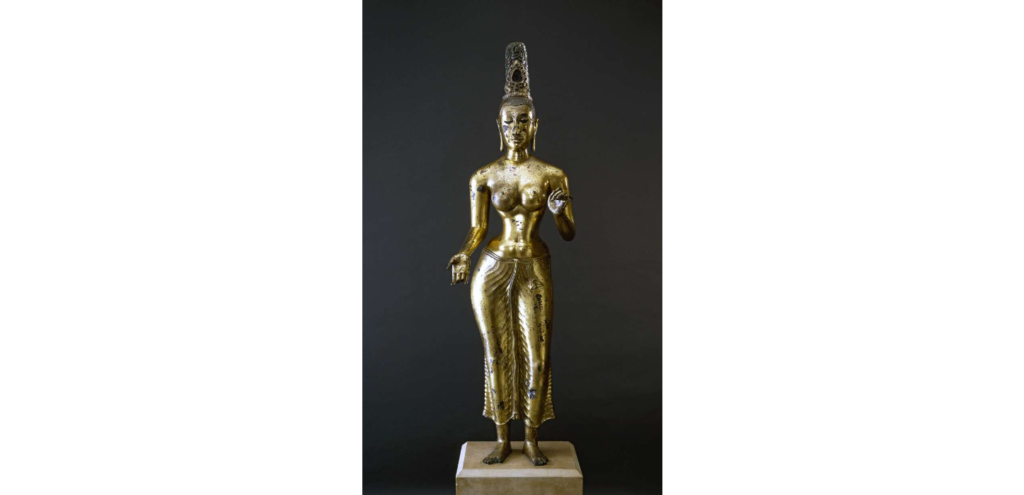 Tara from Anuradhapur, Sri Lanka, Photo credit: British Museum, London, U.K.
Tara, in performances
The goddess Durga (Nine Durga) in India, a form of goddess Kali is adopted by the professional performing artists in their dance performances making the Indian folk culture, likewise, Tara is popular among the performing artists in Nepal, Tibet, Vietnam, Thailand and Cambodia.
Video credit: Fenxun 21 Tara, 2020, Praises to the 21 Taras (English) Tibetan dance, green tara protecting us from Covid-19, https://www.youtube.com/watch?v=arvtX1eJXVw&t=602s
Acknowledgement
Embassy of United State of America, New Delhi
Dr. Vandana Sinha and team, Centre for Art and Archaeology, American Institute of Indian Studies, Gurugram, India
Dr. Madhuvanti Ghose, Alsdorf Associate Curator of Indian, Southeast Asian and Himalayan Art, The Art Institute of Chicago, U.S.A
Dr. Arjun Rao, Assistant Professor, Central University of Karnataka, Gulbarga, Karnataka, India
Dr. Shanker Suman, Assistant Curator, Patna Museum, Patna, Bihar, India
Mr. Ujay Bajracharya, Senior Paubha Artist, Kathmandu, Nepal
Director, Bihar Museum and curatorial members, Patna, Bihar, India
Metropolitan Museum of Art, New York, U.S.A.
Rubin Museum of Art, New York, U.S.A.
British Museum, London, U.K.
Archaeological Survey of India