"the work of giants" as described by Rudyard Kipling
Mehrangarh Fort photographed by Neil Greentree ©Mehrangarh Museum Trust
Krishna Shekhawat
Mehrangarh Fort could be India's first monument to offer a gamified educational experience.
Walk, play, explore and create
Rebuild lost monuments
Trace architectural history through the centuries.
Create games to teach resource management and teamwork
Experience walkthroughs with friends, family or classmates
Host online conferences, festivals and events
This is to propose a digital heritage education project by launching Mehrangarh Fort on Minecraft, a Microsoft-owned video game in collaboration with Ashoka University Minecraft team.
MINECRAFT IMPACT
Total revenue earned – $ 240 Million
Number of active monthly users – 126 million monthly users
Number of Minecraft: Education Edition users – 35 million students and teachers
Average age of a Minecraft player – 24 years old
Increase in new  players since Covid-19 pandemic – 25% increase
WHY DIGITAL HERITAGE EDUCATION?

 
ⓒ Minecraft: Education Edition
MUSEUMS ON MINECRAFT
UNESCO : Let's keep our legacy alive, one block at a time
Monuments are recklessly destroyed in conflict zones. But if its impossible to rebuild in the real world, why not build in another world? UNESCO rebuilt lost Syrian monuments on Minecraft.
MUSEUM OF LONDON : Great Fire of 1666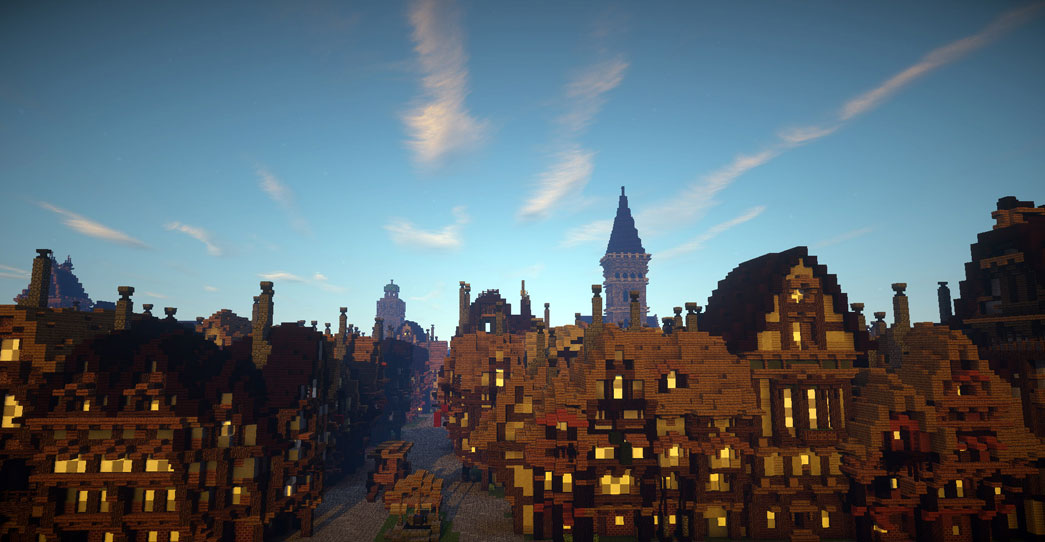 ⓒ Museum of London on Minecraft 
For the 350th anniversary of London's Great Fire 1666, Museum of London created an exciting
 

virtual experience on Minecraft.

 
MEHRANGARH ON MINECRAFT
Teaser : Mehrangarh on Minecraft ©Mehrangarh Museum Trust and Ashoka University Minecraft
 DO OR DIE : WARS ON HORSES AND FLYING HORSES
As with phones today, Rathore Rajputs considered swords and horses as an extension of themselves. When one-on-one battle went out of fashion, Maharajas of Jodhpur found renewed interest in warfare through airplanes, or rather flying horses!
Activities
Send diplomatic delegation to avoid war

Experience Fort architecture evolve to bolster defence.

Store arms and basic food supplies

Strategise to attack and defend unarmed subjects

Form teams to build multiple levels of attack
Target audience : 10 – 15 years old
DROUGHT OF 1920s
Jodhpur is the capital of the kingdom of Marwar, which literally translates to the land of death. Drought has historically been a part of life here. How can this resource scarcity be tackled?
Activites
Uncover causes of drought- natural or mismanagement?

Experience the region grow drier

Dig deep wells to tap underground water

Relocate humans and animals to save them

Restore and recreate water management system
Target audience: 10-15 years old
JODHPUR RIFF GOES DIGITAL
Mehrangarh Fort hosts the world-famous Jodhpur RIFF, an annual Rajasthani folk music festival.
Due to pandemic, festival enthusiasts can now digitally attend the festival.
Activities
Walk across various venues

Interact with the performers

Attend concerts and lectures

Visit the museum

Host your own event
Target audience : 25-75 years old
(i) Access
Offer remote access to the Fort amid Covid-19 pandemic.

 

Providing universal, 24*7 , all-weather accessibility to the minecraft Fort in comparison to the fixed timings of the Fort.

Increase accessibility for the

physically disabled and elderly

.
(ii) Creative
Offer a revolutionary combination of History and Technology to adapt to modern times..

Trigger problem-solving skills through team coordination, collective building and game play.
(iii) Educational
Equip school children with

resource management skills

.

 

Apply education in math and engineering by creating coding and constructing.

Provide a fun, interactive medium for school children to learn about the rich museum collection and arts and crafts of Marwar. For eg: default minecraft music can be set to Rajasthani folk music.

Engage students in curating exhibitions and tours of temples, lakes and various parts of the Fort

Encourage research by providing a repository of various important historical texts, documents, files in the server for easy access.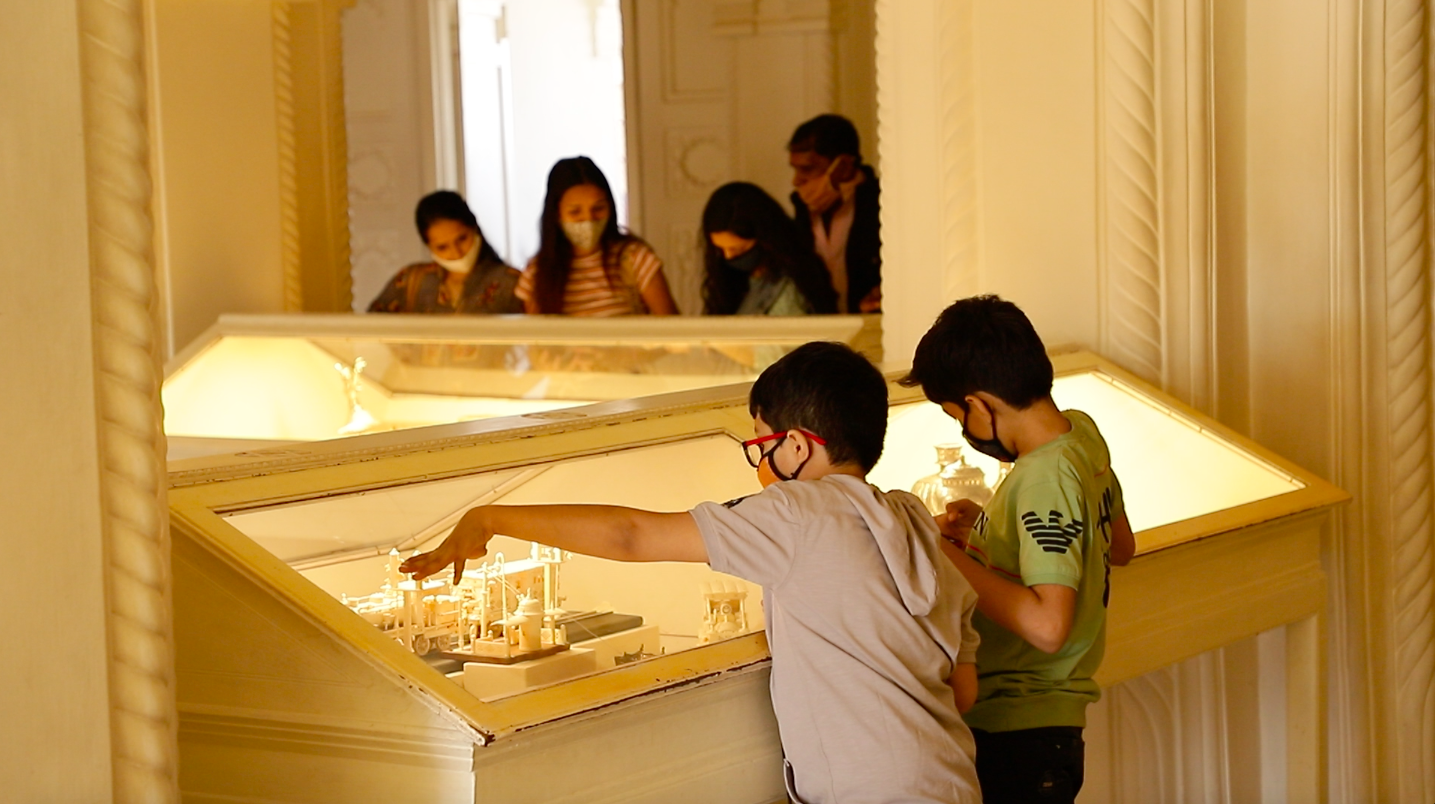 Children observing Decorative Arts photographed by Bhawani Singh ⓒ Mehrangarh Museum Trust
(iv) Cultural
Create a sense of identity and belonging for the people of Jodhpur

Offer a practical, easy-to-use approach to educate about the phased architectural history of the Fort over centuries. For eg: players will memorise Fort spaces by continued playing.

 
(v) Disaster Preparedness
Better disaster management by creating a platform to understand the fort floor structures, exit and entry points clearly.
TIMELINE *

*Timeline will be subject to change depending on availability of map data and high-resolution photographs.
**Building includes : 
Week 1 : Extracting, analysing, cleaning, scaling and converting map data into software recognisable data 
Week 2: Setting up server, uploading files, customising resource packs, getting up security firewall, adding layered whitelist permission, setting up FTP repository for backup and restore facility, installing custom plug-ins, rendering and customising minecraft world
Week 3-8: Building exteriors and interiors of the Fort 
FINANCIAL VIABILITY
(i)
Expenses
One-time, all-inclusive capital cost.

Annual, recurring maintenance and running costs
Please note that above mentioned figures are subject to availability of funds, negotiation with vendors and Microsoft and equipment.
(ii)
Revenue
Revenue generation to balance these expenses can be:

Standard user fees to enter the minecraft world can be charged.

Add-on charges as per entry to a particular Mehrangarh Minecraft world.

Sale of player skins and other add-on features.

Promotion of Mehrangarh merchandise by funnelling audience to www.mehrangarhmuseumshop.com

Leasing out Mehrangarh Minecraft world for collaborations
(iii) Final Assessment
According to preliminary calculations, costs incurred can be covered comfortably within two years of launch. Thereon, the
revenue generation shall be higher

than recurring maintenance expenses.
MARKETING PLAN
Formalise collaboration with Microsoft for technical assistance and marketing on their platforms

Promotional video series before and after launch to generate and sustain interest

Set up tie-ups with schools and higher education institutions

Invite future audience to contribute during building stage to ensure sustained relationship
TEAM PROFILE
CURATION, HERITAGE EDUCATION
 

AND COORDINATION LEAD – Krishna Shekhawat, Assistant Curator, MMT
TECHNICAL AND DESIGN TEAM- Atishay Khanna, Founder, Ashoka University Minecraft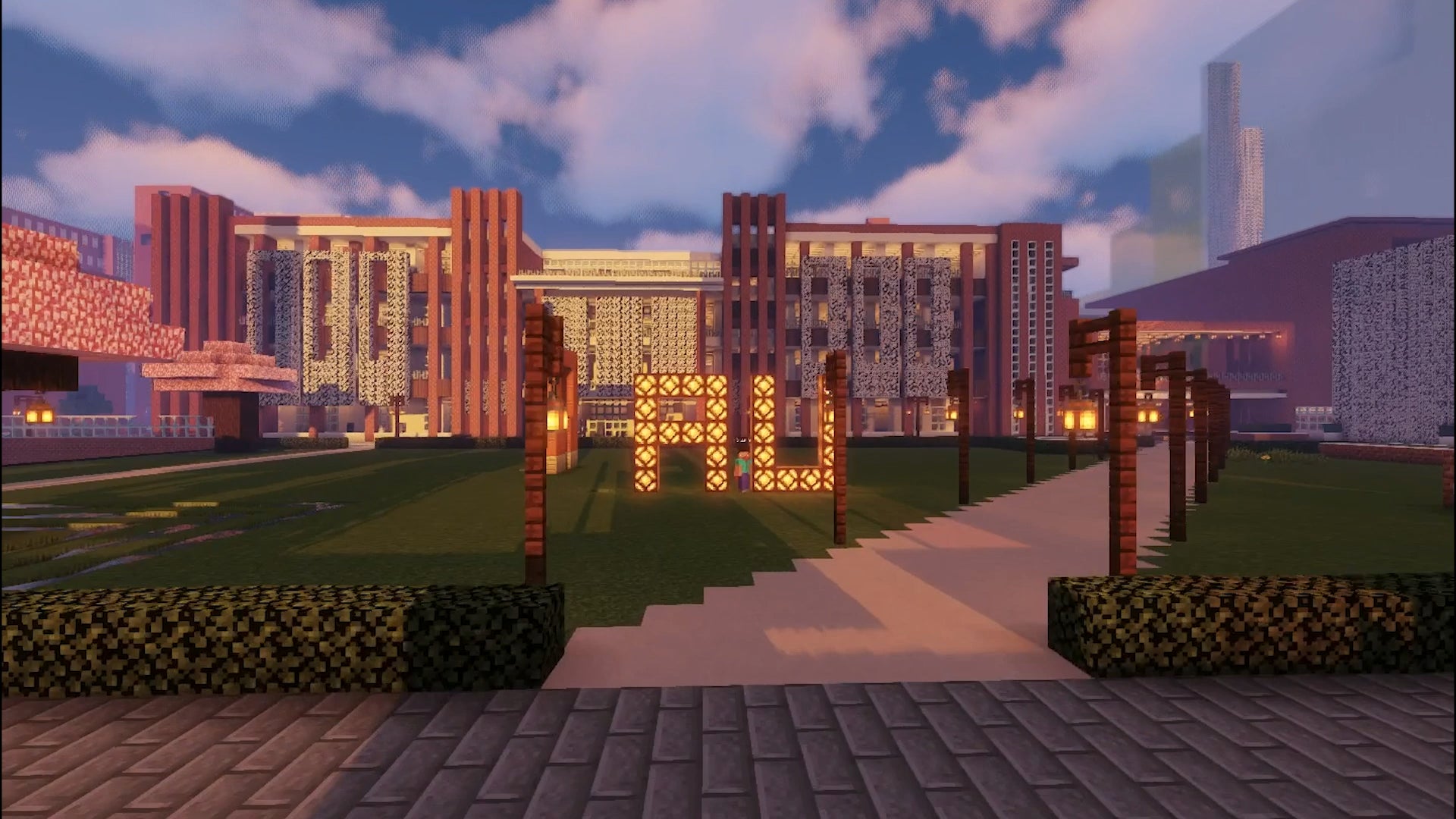 ⓒ Ashoka University Minecraft by A. Khanna and team
ACKNOWLEDGEMENT
I am deeply grateful to Dr. Shobita Punja, former CEO, National Culture Fund for her initial encouragement and discerning eye in seeing potential in this idea; Kr. Karni Jasol, Director, Mehrangarh Museum Trust, for always supporting my ideas and providing a free thinking space; Dr. Madhuvanti Ghosh, Alsdorf Associate Curator at Art Institute, Chicago for sharing her academic rigour, training and sage advice unconditionally; Dr. Vandana Sinha, Director, American Institute of Studies, Gurgaon and Stuti Gandhi at AIIS for their patient cooperation and administrative support.
Special thanks are due to the U.S. Embassy in India for creating an atmosphere under which some of my nascent thoughts found flesh and bone.
Most importantly, this idea would never have seen the light of day without some key conversations and brainstorming with Atishay Khanna and his ever-supportive team of techies who built Ashoka University Minecraft.