Moumita Dhar

Ceramics Of Indus Valley Civilization: A Quick Glance
Indus valley civilization (IVC) was one of the earliest civilization of the world flourished in South Asia between 3300 BCE to 1700 BCE.  C. Mason first mentioned IVC in 1856, later, D. R. Sahni discovered Harappa in 1921 and R. D. Banerjee excavated Mohenjodaro in 1922 which pushed back the history of the Indian Subcontinent 5000 years back. The contemporary civilizations to Indus Valley Civilization were Mesopotamia and Egypt. It flourished in the basins of the Indus River, extended from Baluchistan to North India covering Pakistan and Western India. The main cities of the Indus Valley Civilization are Mohenjodaro, Harappa, Dholavira, Lothal, Kalibangan and Rakhigarhi.
For archaeologists, any kind of pottery is the most significant sources of information, not only because of its durability and abundance but also for the vast range of information on ancient societies that can be inferred from its systematic study. Indus Valley pottery/ceramics tradition reflects not only the standardization over crafts and technology but also gives ample information on daily lifestyle, food habit, knowledge of science and technology.
The Indus Valley Ceramic is known for its red surface with black painting on the neck and belly portion. The ornamentation varies from Peepal leaf to geometric pattern. The Indus pottery further classified as kitchenware, tableware, storage and ritualistic ware. The technology of making pottery was complex and consisted of different steps such as preparation of clay, shaping, drying, polishing, baking and painting. The most popular pottery type were Jars, Cup, Bowl, Dish-on-Stand, Lid, Spoon etc.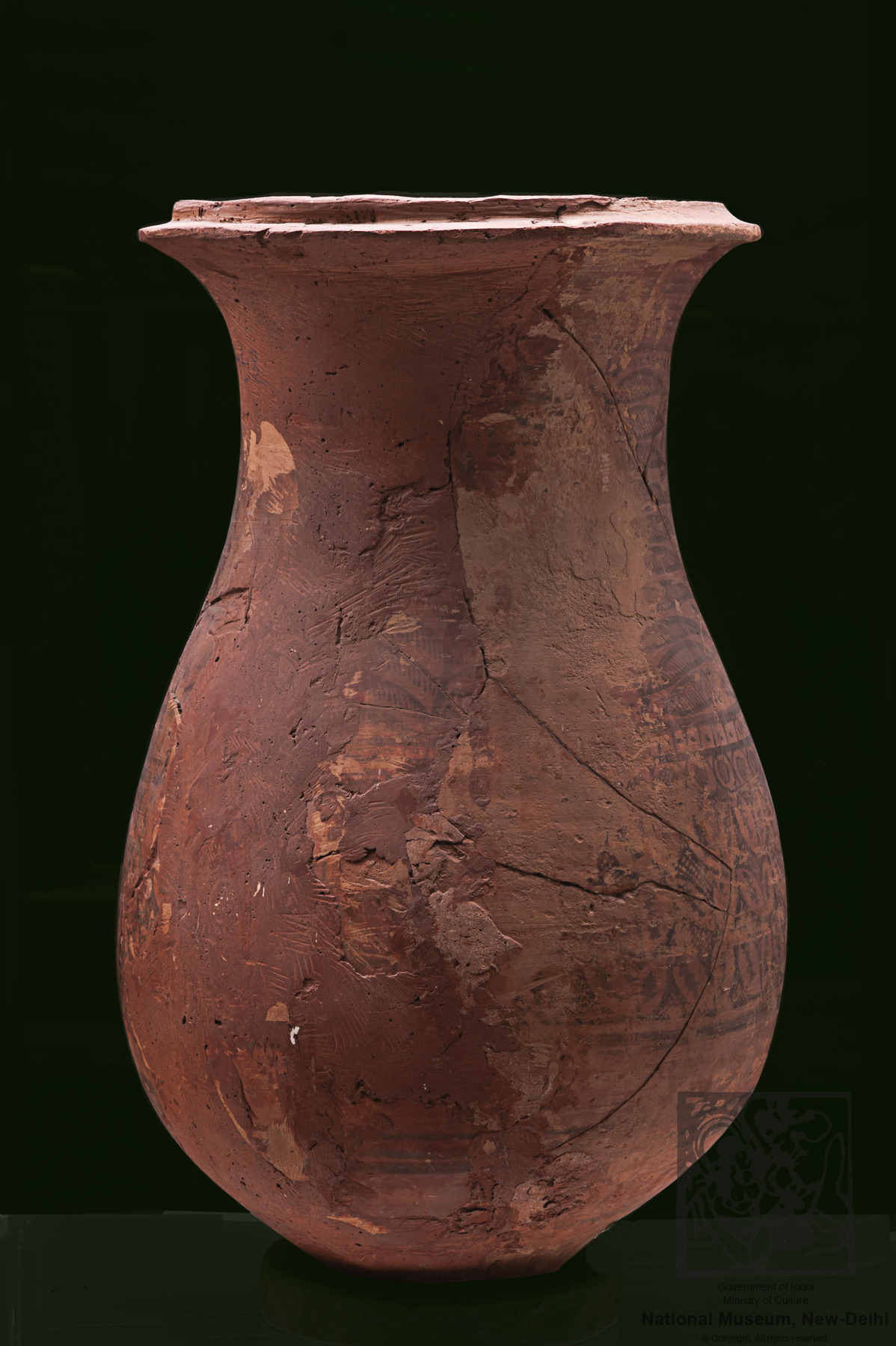 'S' Shaped Jar
Mohenjodaro
Terracotta, Circa 2500 BCE
National Museum, New Delhi, Acc No. H797(b)
A limited number of this type of jars have been found at Harappan sites. This is a tall storage jar with a prominent flange below the orifice, and a graceful elongated concave-convex profile, slightly bulging near the flat-footed base. It has been very carefully made and coated with a polished red slip. It is painted all over with a multitude of geometrical and naturalistic motifs in horizontal registers divided into panels. The graceful curves and uniform section of the vessel evince the high skill of the potters.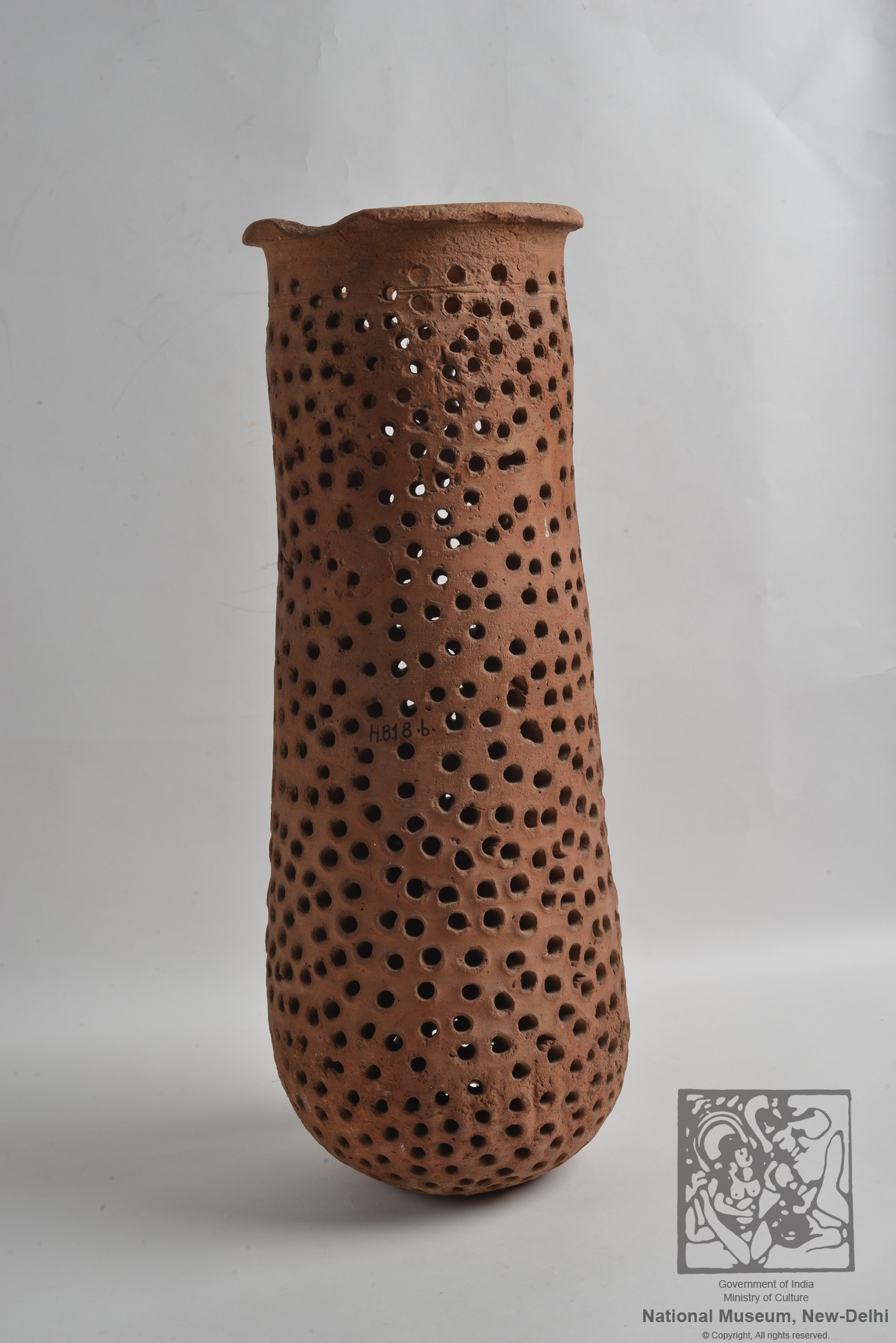 Perforated Jar
Harappa
Circa 2500-2000 BCE, Terracotta
National Museum, New Delhi, Acc No. h.818 b
Another unique and typical Indus Valley Ceramics is Perforated Jars, tall and cylindrical in form. The holes were probably made with a help of a circular stick, pushing through the wet clay from the outside. Though the usage of this type of potteries is yet to be established clearly, the representation of this type of jars is very prominent on the Indus Valley seals.

Dish-on-Stand
Harappa
Circa 2500 BCE, Terracotta
National Museum, New Delhi, Acc No. H795/A(C)1450
This is one of the most distinctive types of pottery found at Harappa and Mohenjodaro which is also known as 'Offering Stand'. It has a dish for its crowning component. It is coated with burnished slip ranging in colour from pink to deep red. It is decorated with beautiful black paintings all over the body. It may have been used to hold libations during sacred rituals.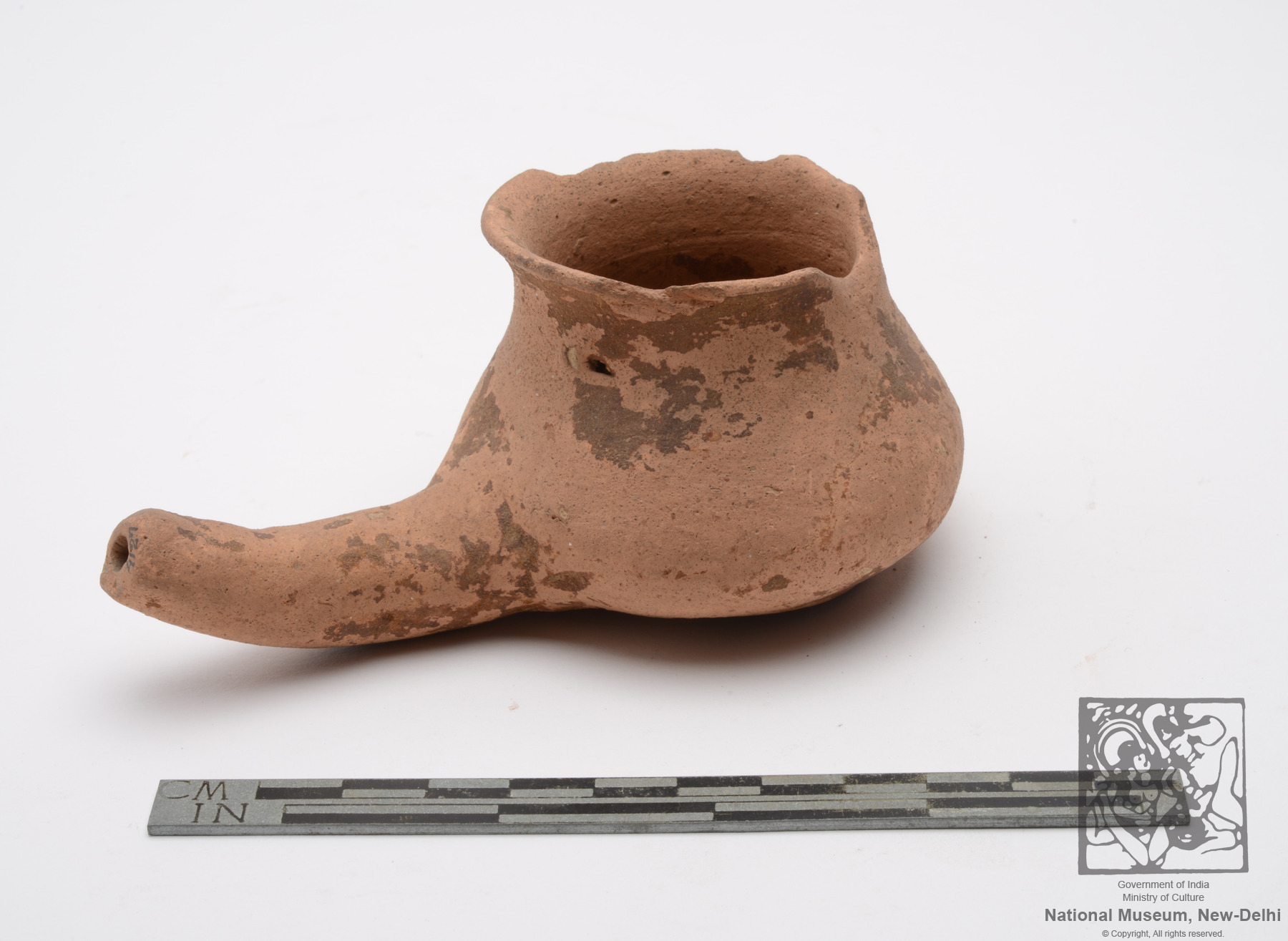 Spouted Cup
Harappa
Circa 2500-2000 BCE, Terracotta
National Museum, New Delhi , Acc No. 4127-554
This dark red slipped Spouted Cup is an example of various needs and food practice of Indus Valley people. This spouted cup has a flat base and flared mouth with a long spout. This cup was probably used for pouring liquid, it is also assumed that this type of spouted cup might have been used for ritualistic purposes.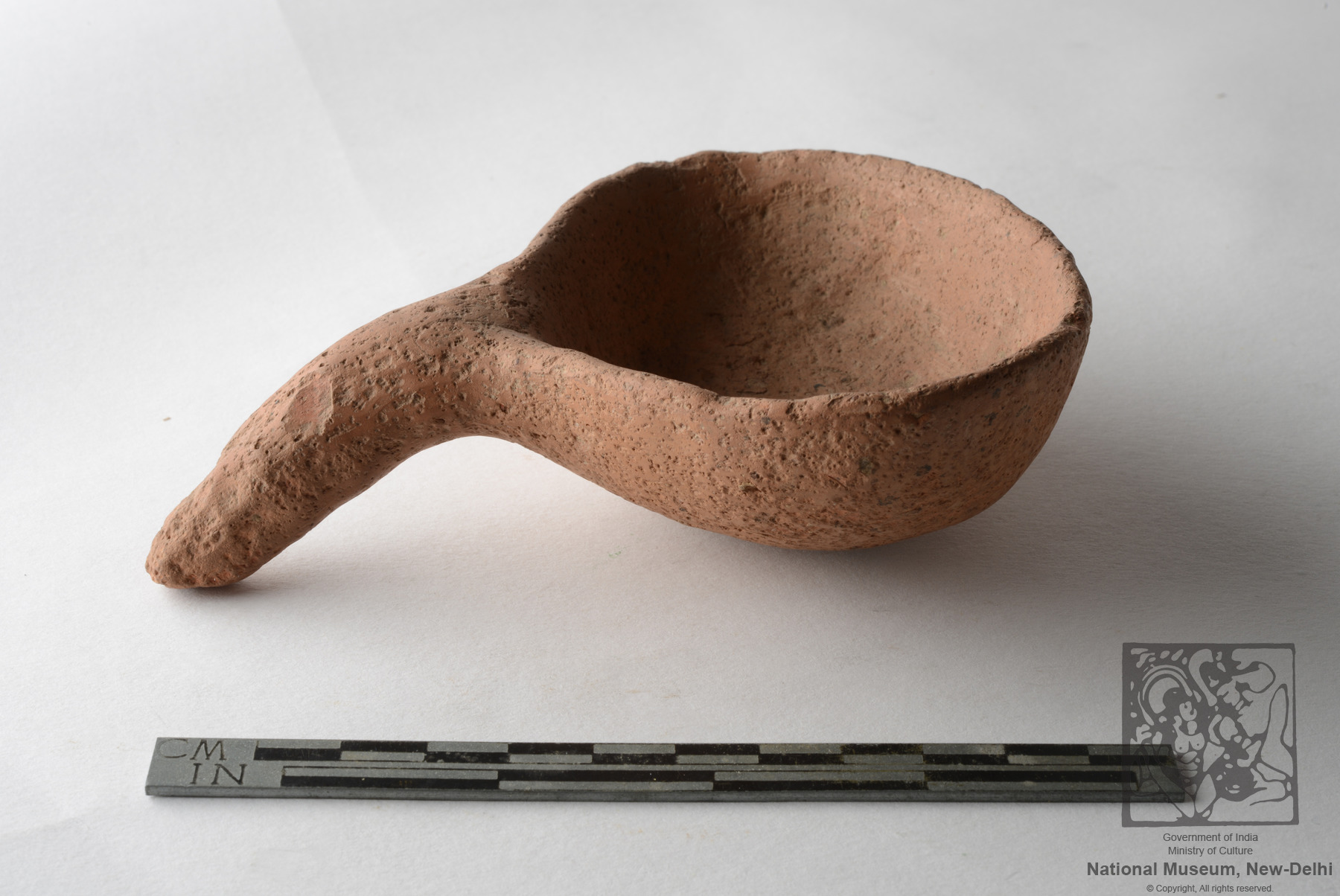 Spoon
Harappa
Circa 2500-2000 BCE, Terracotta
National Museum, New Delhi, Acc No. 4879-571
This spoon is a perfect example of the eating practices of the Indus Valley people. A similarly shaped spoon has been also found made on a shell.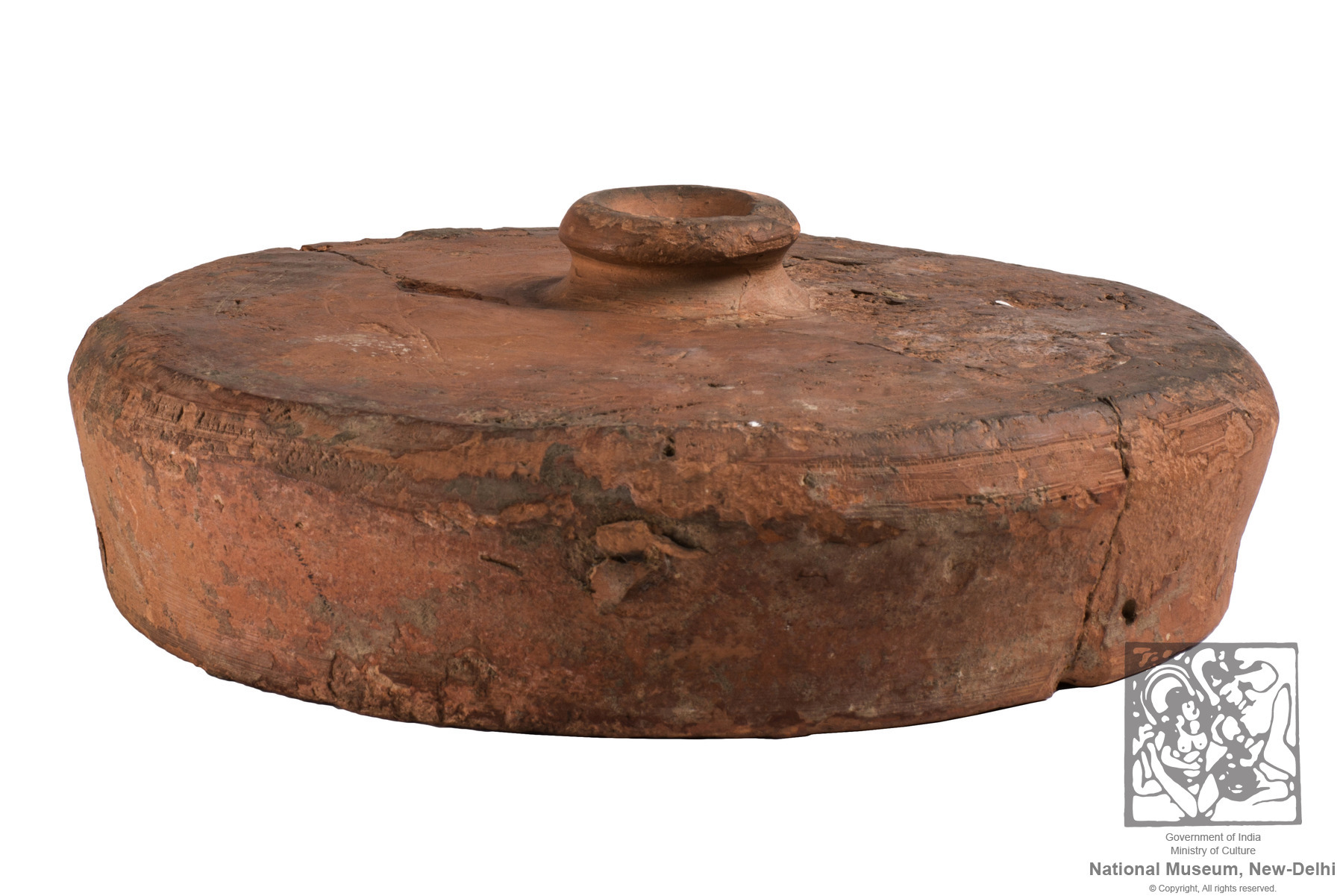 Lid
Harappa
Circa 2500-2000 BCE, Terracotta
National Museum, New Delhi, Acc No. H 815 b
This is an excellent example of a lid also known as a jar cover with a knob in the middle to hold it.  A huge amount of jar cover or lid has been found from different sites of the Indus Valley Civilization.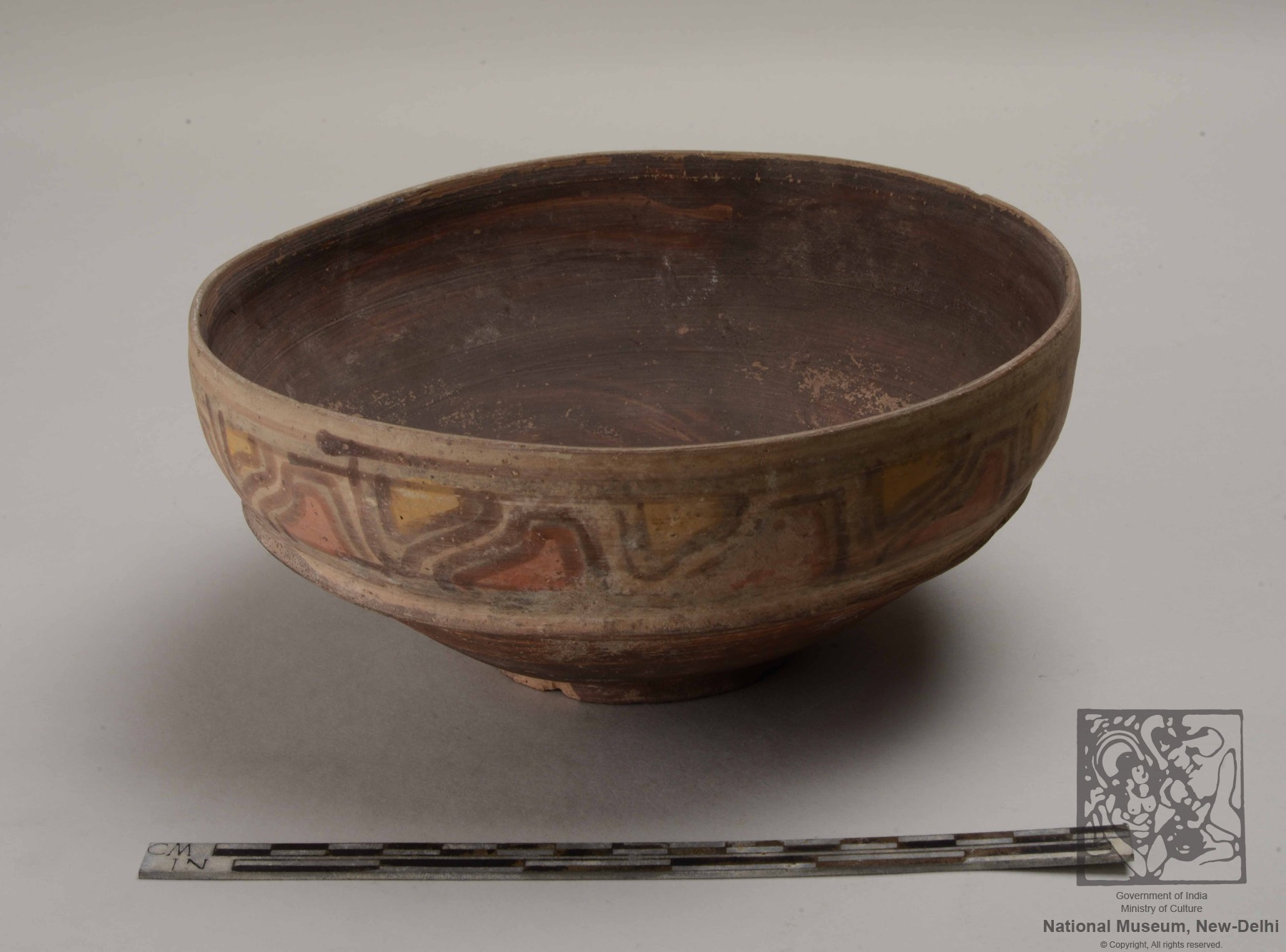 Polychrome Bowl
Nal
Circa 3500-3000 BCE, Terracotta
National Museum, New Delhi, Acc No. B.4 43.005/982
This bowl was made on a fast wheel as the striation marks suggest. The interior of the bowl is painted in dark chocolate colour, while the exterior has a band of polychrome design. This bowl has very thin and fine fabric which reflects the finest craftsmanship of the potters.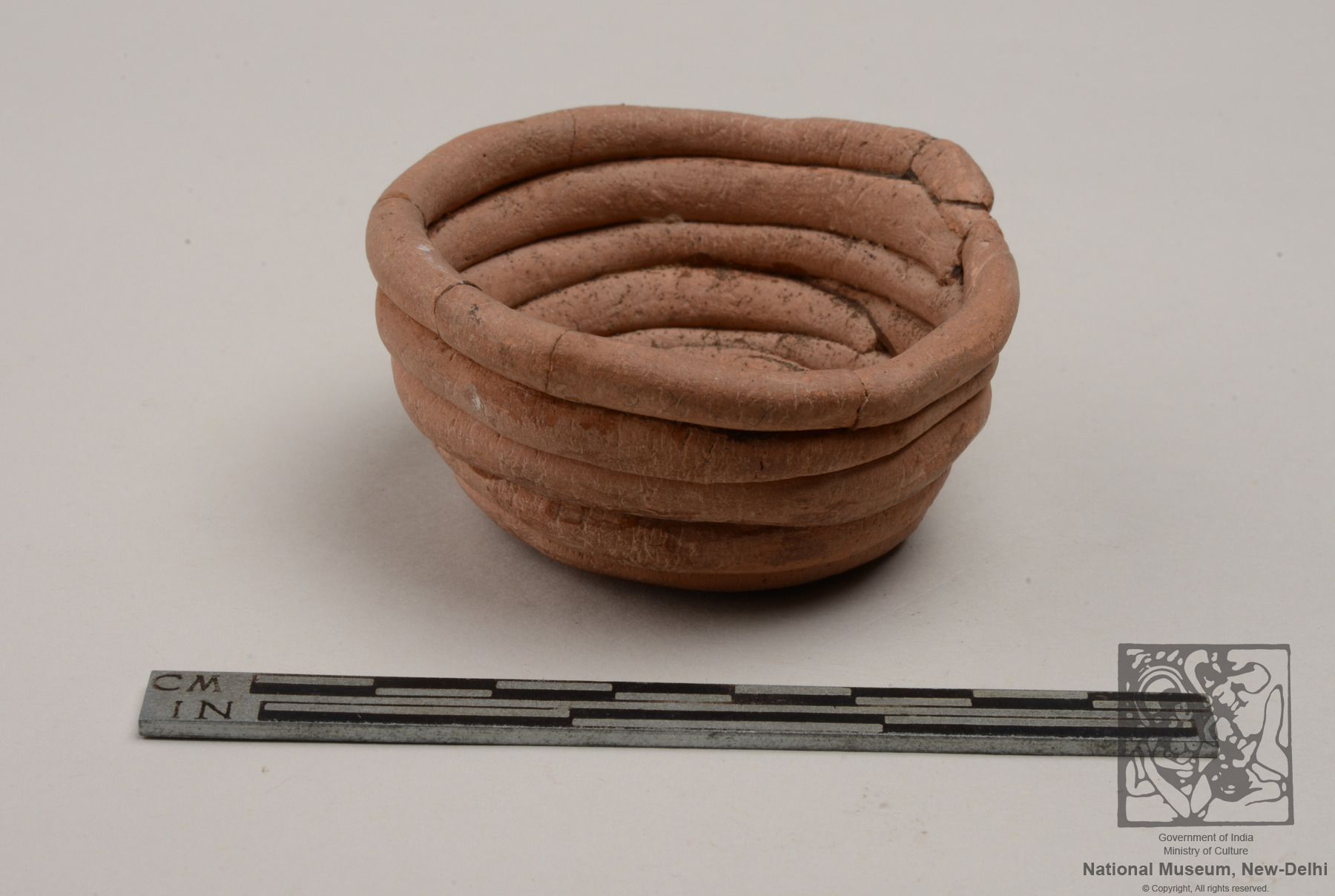 Basket
Harappa
Circa 2500-2000 BCE, Terracotta
National Museum , New Delhi,  Acc No. 580-559
This basket is an example of a hand made pot. However, most of the pots or ceramics were made on wheels, but few types of pots were preferred to be hand made such as this particular type of basket.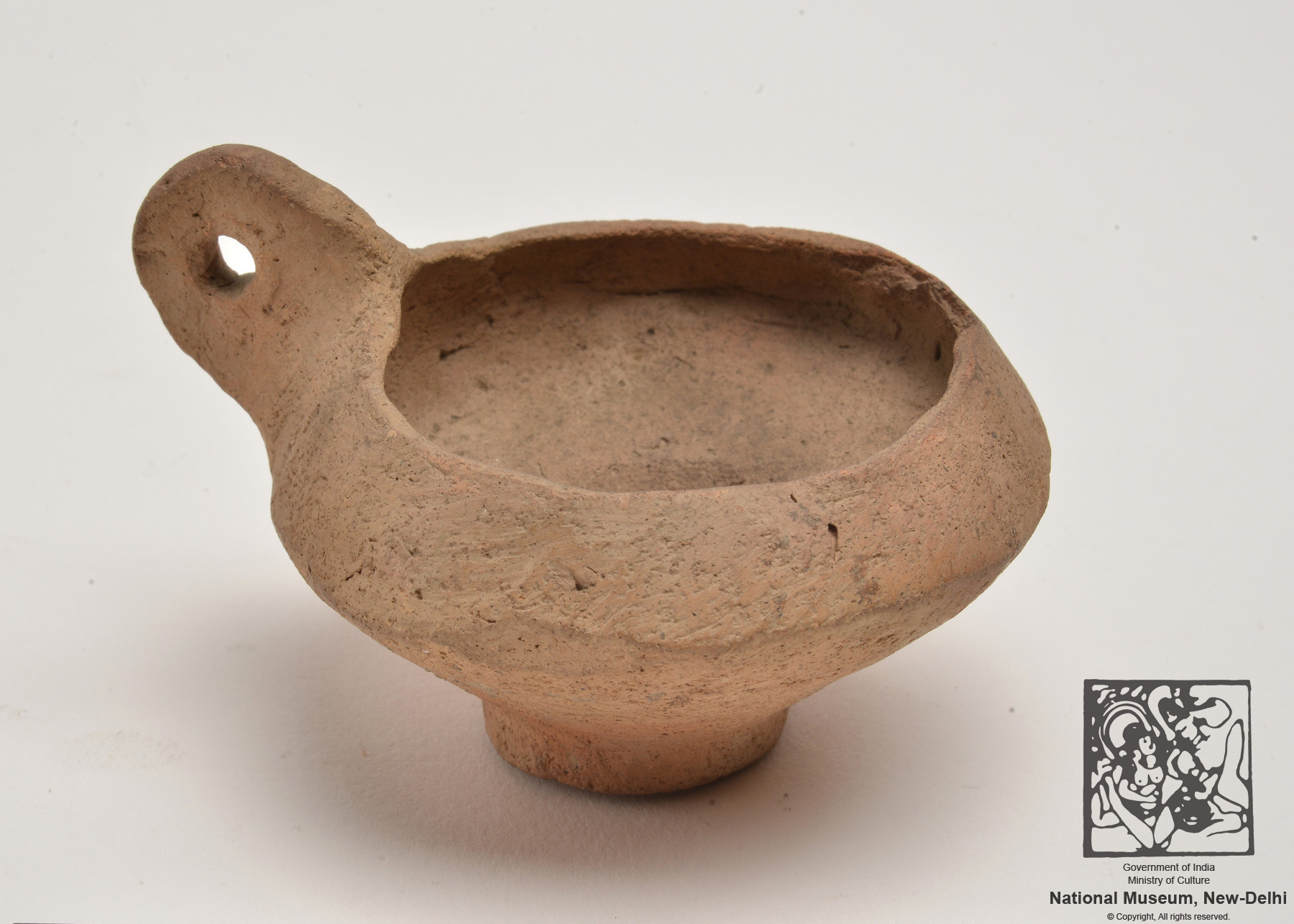 Handled Cup
Chanhudaro
Circa 2700 BCE, Terracotta
National Museum, New Delhi, Acc No. Ch 330/1071
A red coloured cup with a perforated handle is an interesting remain. It belongs to the tableware category. This cup is a perfect example of the utilitarian nature of the Indus Valley Civilization.
---
---
Let's have fun!
Activity 1
'Explorer at Home'
Do you want to visit but can't visit due to the present situation!?
Don't worry,  still, you can have an exciting time!
Read the above-mentioned text, follow the video link, listen carefully then please, read carefully the linked documents and start your own exploration in your home.
Grandparent and parents are advised to help your children to become great explorer.
find the attachment for Instructions.
⇓⇓
---
Activity 2
'Clay on Fingers'
(Pot Making Workshop)
This workshop is a good option during the weekend to have a good family fun time while learning new things. Children aged between six to sixteen years along with their family members are encouraged to participate in our pot making workshop. This workshop will be facilitated by experienced pot makers and artists. A brief lecture on ancient ceramics tradition will be given by renowned experts in this field. In the end, participants will learn a new skill to enhance their creativity as well as will exposed to some interesting historical facts.  please, find the attachment for more details.
⇓⇓
---
Activity 3
'Curator For A Day '
(Group activity for teachers and students)
'Curator for a day ' is an engaging program for both teachers and students. Schoolchildren will be asked to create their own exhibition with photos of objects or specimen. Teachers will team-up a few students and will guide the students to come up with their own idea and create an exhibition. Curated exhibitions will be virtually available on museum websites. Students and teachers will be acknowledged for their curated exhibitions. The entire process is divided into three stages and will take place in a museum and in school. Our museum will provide the necessary help and guidance.
Please, find the details in the attached file.
⇓⇓
---
 Acknowledgement
  Embassy of the United States of America, New Delhi.
Ministry of Culture, Government of India.
 Centre for Art and Archaeology, Gurugram, India.
 American Institute of Indian Studies, New Delhi.
 National Museum New Delhi, Janpath, India.
 Dr. Madhuvanti Ghose Alsdorf Associate Curator of Indian, Southeast Asian and Himalayan Art, The Art   Institute of Chicago, U.S.A.
 Ms. Purnima Mehta, Dr. Vandana Sinha and the entire team of  the American Institute of Indian Studies
---